Substance abuse and overdose can happen to anyone. Gelja Sheardown shares the story of her husband Barrett who lost his life suddenly due to opioid overdose.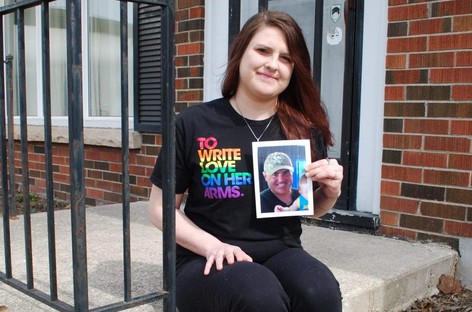 Drug addiction can happen to anyone and it wears many faces. It could affect a family member, a friend, a co-worker and more. Opioids claimed the lives of three individuals last week alone in Bruce-Grey and it's important to have a conversation about this crisis before even more lives are lost. Gelja Sheardown is doing just that. In this Owen Sound Sun Times article, she shares the story of her husband Barrett Warwick, a hardworking and devoted father of three who lost his life suddenly due to an overdose after taking fentanyl for the first time. She wants people to understand that addiction and overdose can happen to anyone, even people like Warwick who adored his children and family.
We thank Gelja for bravely sharing this story that changed her family in an instant. She hopes that she can help break the stigma around opioid addiction so people in similar situations can get the help they need. You can read the article at: https://www.owensoundsuntimes.com/news/local-news/sheardown-shining-light-on-opioid-crisis-after-husbands-overdose-death?fbclid=IwAR0XoNCJDBJg9Yv5UyAG0sG3ck4GwEFEcNrHQnwkOmk7JTDRkGKLjHRwlFA
Grey Bruce Public Health have confirmed that there were 16 fatal overdoes in Grey-Bruce in 2019 and 18 in 2020 (January to November). So far in 2021, there have been at least 7 fatal overdoes (pending coroner confirmation).
This Saturday will mark the one-year anniversary of Barrett's death and Gelja, along with officials with Grey Bruce Health Unit (Harm Reduction Team), Safe 'N Sound and the United Way of Bruce Grey will be at a booth at the Owen Sound Farmer's Market to shine a light on the opioid crisis. People can buy a carnation with all proceeds supporting local addiction services. Everyone is invited to walk around the block in memory of those who have died by overdose. Harm reduction supplies will also be available free of charge.
If you are struggling with substance abuse, please know that you don't have to go through this alone. You and your life matter and despite how things may feel right now, things can and will get better.
If you need help, please reach out to:
211: Call 211 to connect with addiction and mental health programs near you. 211 is free, confidential and available 24/7.
Canadian Mental Health Association Grey Bruce:
Owen Sound: 519-371-8850
Bruce Shoreline Team (Southampton/Port Elgin and area: 519-797-2880
North Bruce Team (Wiarton and area): 519-534-4388
South Grey Team (Markdale and area): 519-986-3030
If in crisis, call the CMHA 24 hour Crisis Line at 1-877-470-5200.
For all emergencies, call 911.
Gelja – we thank you again for sharing this story. Our hearts go out to you and your family.
(photo source – Owen Sound Sun Times)