Kits for a Cause
You have a group that wants to make an impact, we have a partner with resources to help make it happen. Together, we can create an incredible group volunteer experience, a corporate volunteer experience or a robust and engaging team building experience to benefit our community!

At Kits for a Cause, is proud to offer ways to get involved for just about anyone and everyone! No matter your age, size of group or accessibility needs, they can help you plan and execute a Kit Packing Event that provides an enjoyable experience for everyone involved. They are happy to cater to corporate teams, schools, families, and faith-based groups, among many others.
Meridian participates in Kits for a Cause for the Backpack Program summer 2023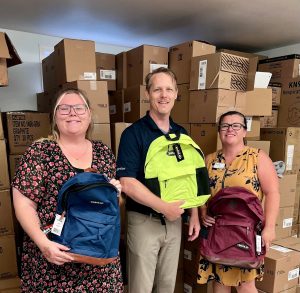 The United Way was incredibly grateful to Meridian Credit Union in Owen Sound for their generous support of The Backpack Program this year. They went above and beyond by packing 100 backpacks and personally delivering them to our office. We are truly touched by their dedication and commitment to our community.
What sets Meridian apart is their unwavering commitment to understanding our needs and providing exceptional service. They have consistently worked with us to ensure that all our interactions with them are tailored to our requirements. Their attention to detail and willingness to go the extra mile is truly commendable.
By providing these backpacks, Meridian has made a significant impact on the lives of local students. Each backpack was distributed within 48 hours.
Thank you so much, Meridian!