Looking back on our 2020 Backpack Program – our donors were there for our vulnerable kids. We are so #thankful for the support.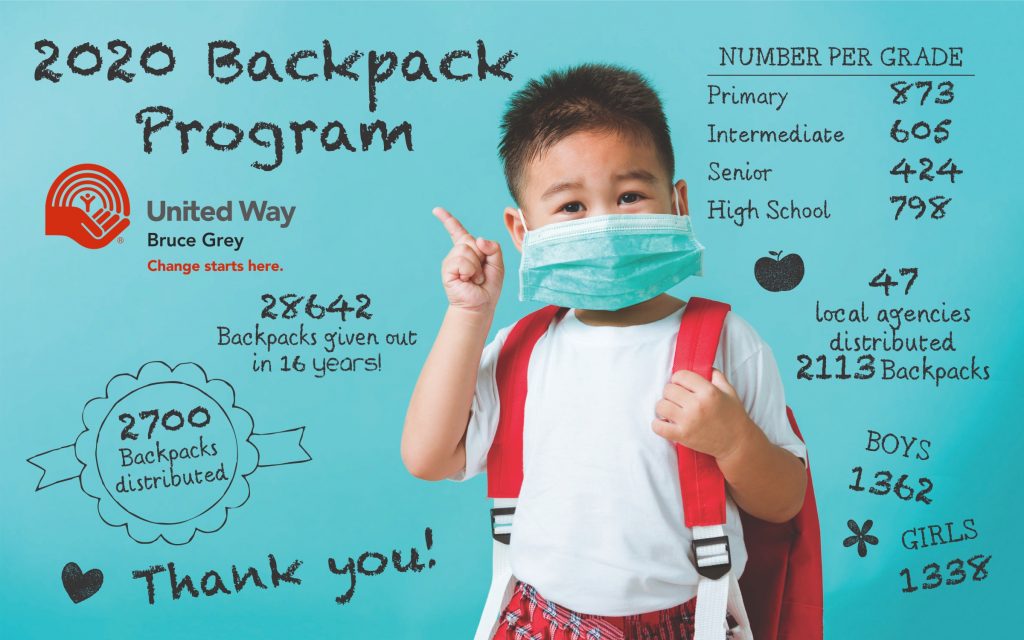 Our 2021 Backpack Program will soon be upon us and we are super excited to get started!
2020 marked our 16th year of providing fully stocked backpacks to children in low income families across Bruce and Grey Counties. Last year, during the pandemic, we distributed a record 2,700 backpacks to children in need.
To date, 28,642 backpacks have been given out throughout both counties. All this is possible due to the amazing and generous support of our donors. This support gives vulnerable kids much more than a fully stocked backpack – it gives children peace of mind and less stress knowing they have everything they need to start off the school year. We simply cannot thank you enough for supporting the program throughout the years. <3
You'll be hearing more about our Backpack Program in the days and weeks to come but meanwhile, we are happy to share our data from last year's program.
To find out more about our Backpack Program, please visit www.Backpacks4Kids.ca or call 519-376-1560.
To support our 2021 Backpack Program, please visit www.DonateToday.ca.