We Remember Them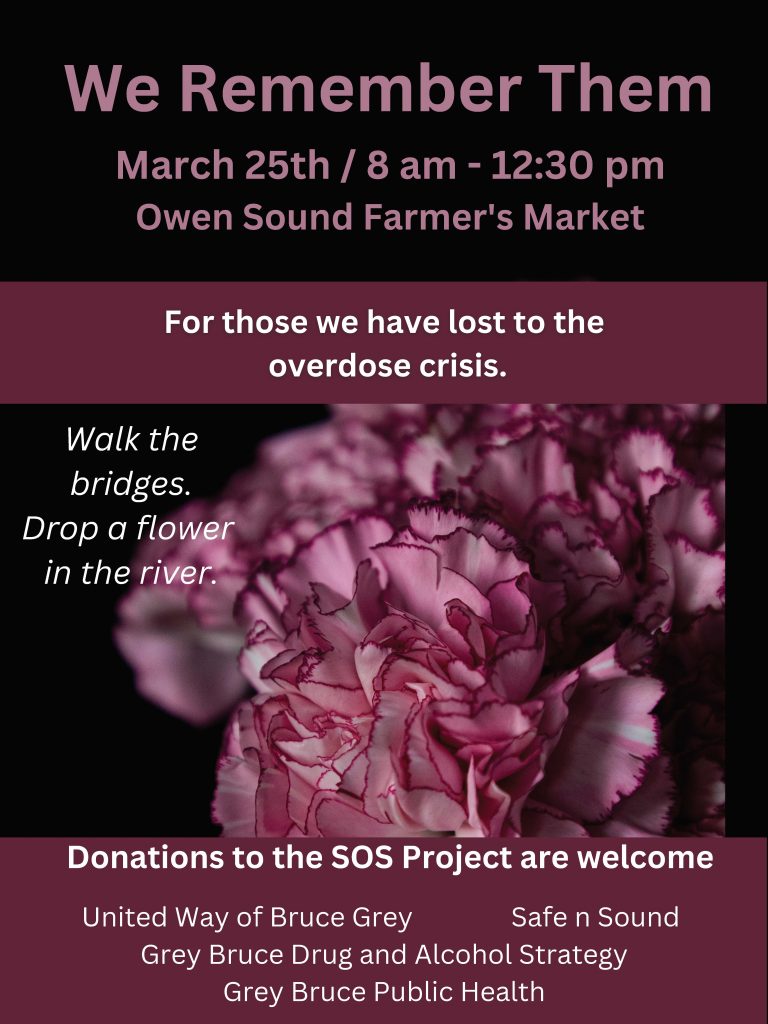 The 3rd annual We Remember Them is on Saturday, March 25th, 2023. United Way Bruce Grey, Safe n' Sound, Grey Bruce Public Health, and other community partners will be at the Owen Sound Farmers' Market to commemorate those who have lost their lives due to the ongoing opioid crisis in the City of Owen Sound. The event, starting at 8 am and ending at 12:30 pm, will involve the public being invited to take a carnation and symbolically "drop it" into the river, surrounding the 8th and 9th Street Bridges, to represent those dearly lost in our community. Donations are being accepted to support the Supportive Outreach Service (SOS) Project.
Gelja Sheardown, who initiated this very event in 2021, was driven by the annual anniversary of the fatal overdose death of her husband, Barrett Warwick. "He worked 7 days a week, he was a wonderful father, he was a wonderful husband, and then he was gone" Sheardown reflects.
Grey Bruce Public Health and their experts will provide the community with Naloxone kits, safe-use equipment, and technical advice on our current Opioid Epidemic and the Opioid Response Plan. Alexis Cook, program manager of Harm Reduction at GBPH, states: "I'd like to offer my most sincere condolences to the groups of families and friends who are missing those who have been lost to opioid overdose/poisoning. We're actively collaborating with community partners and people with lived and living experience to address the opioid pandemic in our community, committed to supporting our community". Alexis continues, "We're honoured to be taking part in this event, and for the opportunity to share information with the community on how to recognize an overdose, and how to effectively use potentially life-saving drug Naloxone, which can temporarily reverse an opioid overdose."
Please join us as We Remember Them.