"Success For Everyone Toolkit"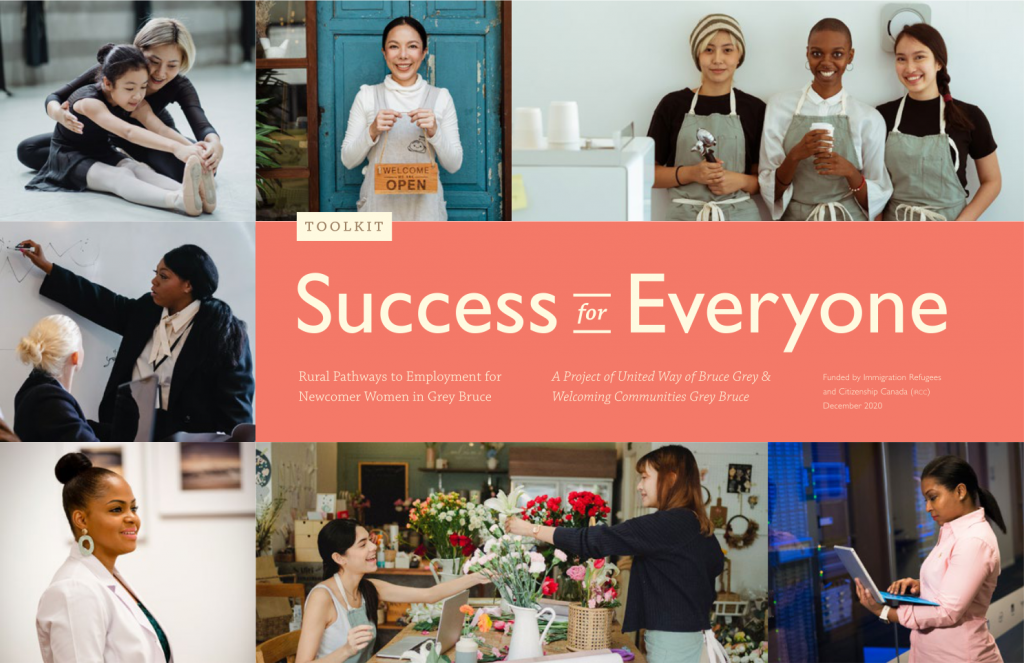 The Rural Pathways for Newcomer Women in Bruce Grey Project was a 18-month (August 2019 – December 2020) regional pilot project with the goal to develop, implement and evaluate new pathways to employment for visible minority newcomer women in a rural region without settlement services. The project was funded by IRCC and hosted by the United Way of Bruce Grey in partnership with Welcoming Communities Grey Bruce.
In the initial stages of the project, detailed surveys were conducted to identify any potential barriers faced by newcomer women seeking employment. With respect to results, 68 newcomer women participated in the surveys as did 79 employers and 9 employment service providers.
The purpose of the study was to develop a "Success for Everyone Toolkit" which would bring together a broad representative group of service providers, organizations, volunteers and visible minority newcomer women over a 18-month project, with 11 of those months during the Covid-19 pandemic. The hope is that the Toolkit will support increased collaboration across diverse sections that are essential for a welcoming and inclusive region in Bruce and Grey Counties.
The Success for Everyone Toolkit includes evaluated tools, best practices, and lessons learned from the Rural Pathways Project that will enhance the capacity of those in rural areas who work with visible minority newcomer/
immigrant women seeking success on their pathway to employment. The Rural Pathways Project was funded by the ircc (Immigration, Refugee and Citizenship Canada) with a focus on addressing employment barriers
faced by visible minority newcomer women who are eligible for IRCC settlement programs. However, there are newcomer women in Grey Brucewho experience the same barriers but do not meet IRCC service delivery eligibility criteria (e.g. international students, refugee claimants, women who are sponsored to immigrate by their spouses and awaiting the approval of their residency application, and those who have already become citizens but have moved to a rural area from urban centres).