#FinancialFridays: Understanding Insurance – Part 3: Automobile Insurance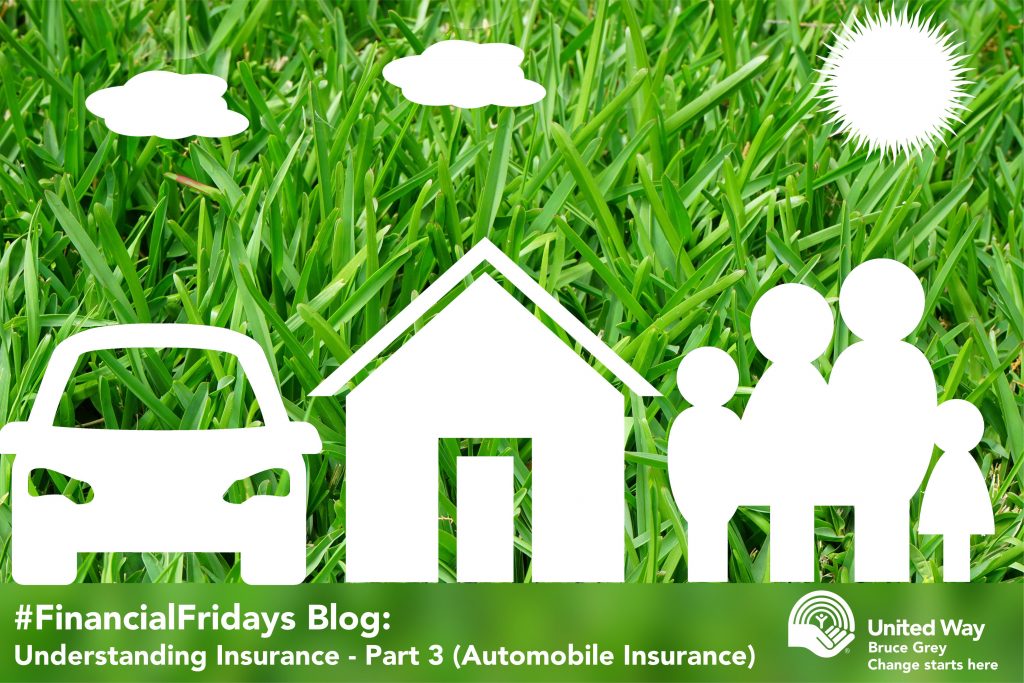 If you drive a car in Canada you know it is the law to have insurance … but what kind, how much, and what do you need to know to make an informed decision?
Like other areas of insurance, there are terms that you need to understand and there are misconceptions you might have as well. This series of posts are meant to help you make informed decisions and to have adequate coverage.
KEY TERMS:
LIABILITY INSURANCE – To drive a vehicle in Canada you are required to have Liability insurance. Liability means that you are responsible for something. If you are charged with injuring another person or damaging their property, liability insurance helps to pay the cost of your legal defense, as well as the cost of any damages for which you are found legally responsible. In Ontario, the minimum you are required to have is $200,000 in liability insurance; however, it is recommended to have a least $1,000,000.
COLLISION INSURANCE – This type of insurance is optional. This coverage provides protection for your vehicle when damage happens because of an impact with another object. If you have a bank loan or a lease plan, having this type of coverage may be required. As a vehicle ages, eventually the cost of the insurance may exceed the value of the benefit and you might consider replacing the vehicle or dropping the collision coverage.
COMPREHENSIVE INSURANCE – This type of insurance is also optional. Comprehensive coverage helps to reimburse you for damage to your vehicle from causes other than a collision. For example: coverage for damage from hail, floods, theft, fire, broken windows, falling objects, explosions, windstorms, vandalism, and/or collisions with animals or birds. As with collision, if you are leasing or have a car loan, you may be required to have this insurance. As your vehicle ages the cost of this type of insurance may outweigh the benefit and you might consider dropping the comprehensive coverage.
NO-FAULT INSURANCE – This type of insurance is designed to speed up the claims process to accident victims and to lower the cost of insurance by reducing the number of lawsuits for minor claims. Under no-fault insurance, your own insurance company pays for your financial losses such as medical expenses and lost wages due to an accident, regardless of who was at fault.
DEDUCTIBLE – The portion that you have to pay when you file a claim with your insurance company. You can have higher deductibles to reduce your insurance premiums (payments). For example if you had a policy with a $200 deductible and a loss of $1000, you would pay $200 and your insurance company would pay $800 on an approved claim.
IF I AM IN AN ACCIDENT WHAT SHOULD I DO? This could be an entire blog by itself. I have included a link to a website that explains exactly what you should do when you are in an accident. What to do after a car accident in Ontario – courtesy of ratehub.ca
RIDER – Also called an "endorsement." Riders are attentional coverages for things such having the insurance company provide a rental car if your vehicle needs repairs after an accident. You need to request this additional coverage and there is a fee for it. Riders are optional.
BASIC QUESTIONS:
How much will I pay for insurance? It can vary, which is why it is important to "shop and compare". The make, model, and year of your vehicle help to determine your insurance rate. The insurance company will examine the vehicle's claims history and average repair cost, and its popularity with thieves. Your driving history, previous claims, and where and how much you drive the vehicle will also affect your premium. Just a small note, the colour of your vehicle does not affect your insurance costs. Urban areas tend to have higher insurance rates because there are more cars on the road and there are more accidents. If you live in an area with a high auto theft rate, you will likely be paying a higher price for your insurance.
Is a 2-door more expensive to insure than a 4-door? This is a car insurance myth. A 4-door vehicle can sometimes be more expensive. This is because when insurance companies determine your premium, they look at the price of the car, repair costs, theft frequency and its previous claims history.
If my car is stolen, will I be covered? Not necessarily. This is only true if you have purchased comprehensive insurance, which is an optional coverage. Comprehensive, if you have it, will pay for damages (or losses) caused by things like theft, vandalism, fire or hail.

If I cause a collision, will the damages to my car will be covered? Not necessarily. Damages to your car may be covered, but only if you've purchased collision coverage. Collision coverage usually pays for damages to your vehicle when another object strikes it.
If someone is at fault and collides with my car, are the damages covered by their insurance? Their liability insurance will cover your expenses; however, if you do not have collision insurance you will be responsible for repairing your vehicle.
If I am in an accident that wasn't my fault, do I still have to pay my deductible? If someone hits you and you were not at fault, then usually you do not have to pay the deductible.
If I pay higher rates (more money), does that mean I have more coverage? Not necessarily. The rates charged by different insurance companies to insure the same driver, with the same car, for the same exact coverage, can vary by hundreds and even thousands of dollars. Each provider uses their claims experience to determine premiums charged and each company will have a different outlook on a person's driving history and car combination. As a result, you'll want to make sure you're with the "right" insurance company; shop your rates, at minimum, every year.
Will my insurance rate increase if I shop around? This is a common misconception. The fact is your auto insurance rate will not increase just because you've shopped around for a better rate. You've got nothing to lose, only money to save, by shopping around for your coverage.
If I have tickets and accidents, will I pay a lot for car insurance? It depends upon the type of tickets. Parking tickets should not affect your insurance. Impaired driving distracted driving and stunt-driving tickets will have a significant impact upon your insurance costs. Drivers with impaired charges may have trouble finding ANY insurance depending on how many times they have been charged. Charges such as Careless Driving also come with higher insurance costs. If you have such charges, but have yet to enter a plea, speak to your insurance broker on the impact of pleading to the standard charges laid. While you may pay more for insurance than someone who has no tickets or accidents, if you shop around you might be surprised to find another insurance company that is more forgiving of an occasional accident or ticket. Tickets usually affect your insurance rate for three years and accidents for about six years. Drive better today, and you will save yourself money in the future.
Does no-fault insurance mean, "It's not my fault?" Not necessarily. There's always fault assigned in an accident. Whether it is all assigned to one person or it's shared will depend on the collision. No-fault insurance only means your insurance company pays for your damages. If you are in any way responsible for the accident, then chances are you'll see an increase in your car insurance rates. On the other hand, if you are 100% not at-fault for the collision, your rates won't likely increase — even though your insurer covered the resulting costs.
Do males pay more than females for car insurance? To a point. Males under 25 tend to pay a lot more than female drivers of the same age. However, once a driver is 25, gender is usually no longer a factor given a similar driving history.
If a friend drives my car and causes an accident, will it affect my insurance? Insurance coverage is tied to the vehicle and not the person driving it. Therefore, remember that if you lend your car to a friend, you are also lending them your insurance.
What isn't covered in a standard insurance policy? Mechanical failure or breakdown, rusting, wear and tear, are not covered. Your insurance company can deny payment if anyone driving the vehicle was driving under the influence. If the person driving the vehicle is convicted of criminal offences relating to the use, care, or control of the vehicle: causing death or injury by criminal negligence, dangerous operation of a vehicle, failure to stop at the scene of an accident, driving a vehicle when impaired or with more than 80 mg of alcohol in the blood, refusal to provide the police with a breath sample, causing injury when driving a vehicle while impaired or with over 80 mg/100ml of alcohol in the blood, or driving the vehicle while disqualified from doing so.
In addition, there is no coverage for anyone, including passengers, if your vehicle is driven by a person without your consent, or by someone specifically excluded from your policy; or if your vehicle is used as a taxicab, bus, or sightseeing vehicle, or to carry paying passengers such as with a ride-sharing service.
Do my loyalty discounts offset any savings I would get by changing insurance companies at renewal? Loyalty discounts from your insurance company can be rewards for not having any claims and/or having other kinds of insurance with their company (tenant, life, automobile). Switching insurers may cause you to lose your loyalty discount (if you receive one) but that doesn't mean you'll pay more for your insurance. These discounts may give you a small amount off your premium, but that discount may be less than the savings you might receive from another provider. After all, what good is 5% off an annual rate of $1,500 (a $75 savings) if you could pay $1,200 with another company?
Is my insurance policy locked in for the year? If you shop around mid-policy and find a lower-priced policy, you can cancel your policy before its renewal. However, doing so may mean you have to pay a cancellation fee. You will want to ensure the savings are worth more than the cancellation fee. If they're not, it may be best to wait until your policy is up for renewal, at which time if you cancel; there is no fee or penalty.
Summary:
Knowledge and research can save you a lot of money. Insurance is a requirement when it comes to owning a vehicle. Shopping around and comparing will help increase your ability to make an informed decision.
Sources/Useful Links:
2 Car Insurance Myths Debunked by Lesley Green
TD Insurance: Common Car Insurance Myths – Separating Fact from Fiction
Financial Services Commission of Ontario – Understanding Automobile Insurance
---
If you need help improving your financial situation or need helpful budgeting advice, our Financial Literacy Program can help. Contact Caroline, our Program Coordinator at 519-378-4773 or email her at advice@unitedwaybg.com.