Energy Saving Tips – Saving on Energy with Water-Efficient Showerheads
Are you looking for a new way to save on your household energy use that doesn't sacrifice any comfort?
Maybe it's time to consider a water-efficient showerhead – they use about 50% less water which helps you save on your energy bills. The newest water-efficient showerheads have been engineered specifically to maintain water pressure while reducing the flow of water. This means you can still shower under a strong blast if you replace your showerhead.
So how do you know if you're ready to make the switch?
You can do a simple test to determine if your showerhead is a good candidate for replacement. Start by turning your water fully on and place a two litre jug or container in your tub. If it fills it up in less than 10 seconds, you should consider upgrading to a more efficient model.
What to Look For in a Shower Head:
To find the most efficient showerhead when shopping, look for the ENERGY STAR certified label. These water-efficient models have been tested and rated to be the most efficient and yield the greatest energy savings.
You should choose a showerhead with a low gallon per minute rating- this is usually on the package. We recommend models with a rating of 1.6 gallons per minute (GPM) or less.
Showers can account for up to 25% of your household's hot water use. Imagine how much that can begin to cost the more people you add to your home? Here's a breakdown of what the water use looks like for an average family of three with both a regular and water-efficient showerhead.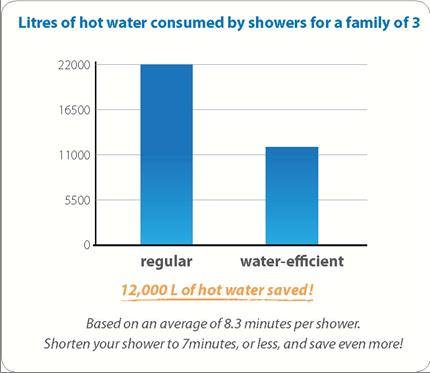 If you have kids, you'll know they love to take their time in the shower. While we recommend limiting your shower to 10 minutes to see added savings on your power bill, it's not always the case when you have a full house. An efficient showerhead can help limit the amount of hot water used, even if you have a family member who likes to take longer showers.
Use the installation of your efficient showerhead as an opportunity to discuss — as a family — the costs associated with hot water and other energy uses throughout your home.
Source: https://www.nbpower.com/blog/en/posts/2017/april/feel-the-difference-with-water-efficient-showerheads/
Looking to save energy costs at home? You may qualify for the Energy Affordability Program which offers energy saving upgrades and comprehensive support to Ontario residents looking to save energy, reduce costs and stay comfortable at home. To find out more and to apply, visit: https://greensaver.org/programs/energy-affordability-program/?refer=uw
Or contact: Kim Williams, Outreach Coordinator for the United Way Energy Assistance Pilot Project at aft@unitedwaybg.com or 613-808-0180.