The United Way Bruce Grey has TWO VIP TICKETS to see THE ROLLING STONES with a PREPAID PARKING PASS up for auction in support of their Backpack Program!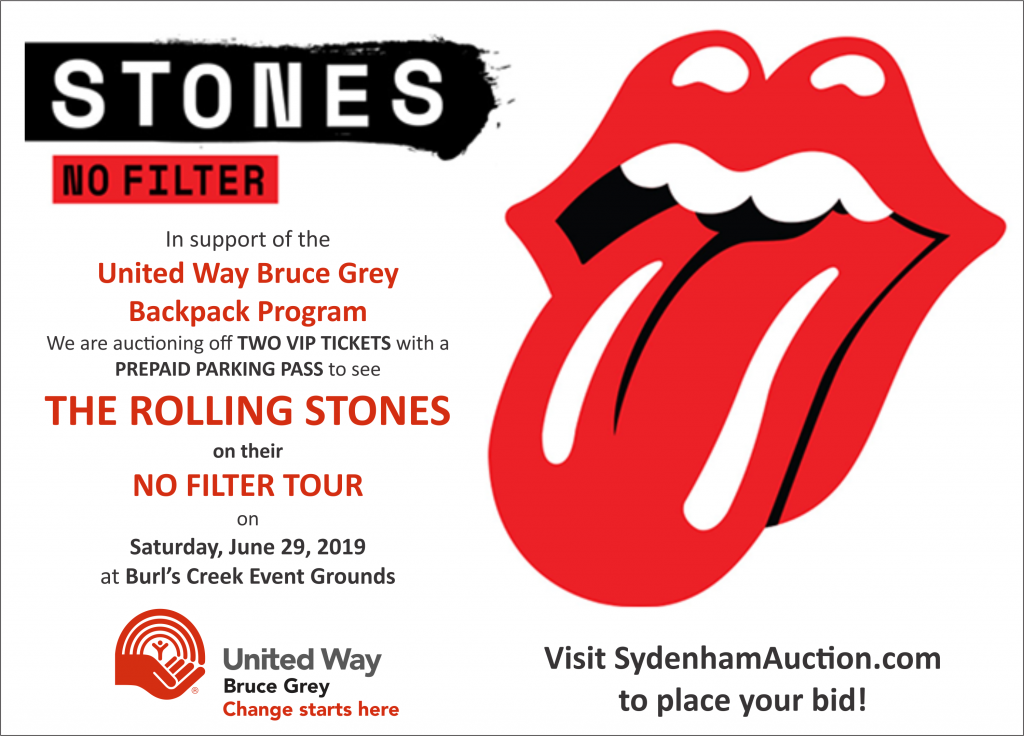 Seize this "one-chance-in-a-lifetime" opportunity to see THE ROLLING STONES on their NO FILTER TOUR as part of CANADA ROCKS live in concert at Burl's Creek Event Grounds on Saturday, June 29, 2019!
Through Sydenham Auctions, we are holding an online auction for TWO TICKETMASTER ISSUED VIP TICKETS (row 30) with a PREPAID PARKING PASS in support of the United Way Bruce Grey's Backpack Program.
Concert includes performances by special guests – The Glorious Sons, The Beaches, Sloan and One Bad Son.
Total value is over $1000!
Event is rain or shine. Parking gates opens at 11 am. Venue gates open at 2 pm.
The online auction closes in just THREE days! The winning bidder may pick up the tickets at Sydenham Auction & Appraisal Services located in Rockford – not far from Owen Sound, Ontario.
Proceeds will support the United Way's Backpack Program. Since 2005, this program has been supplying fully stocked backpacks to children from low income families across Bruce and Grey Counties. To date, we have supplied over 23,000 backpacks and last year, we packed a record 2,456! This year we expect to pack even more!
Thank you for your support! Good luck with your bidding!