January 25th: Opposite Day!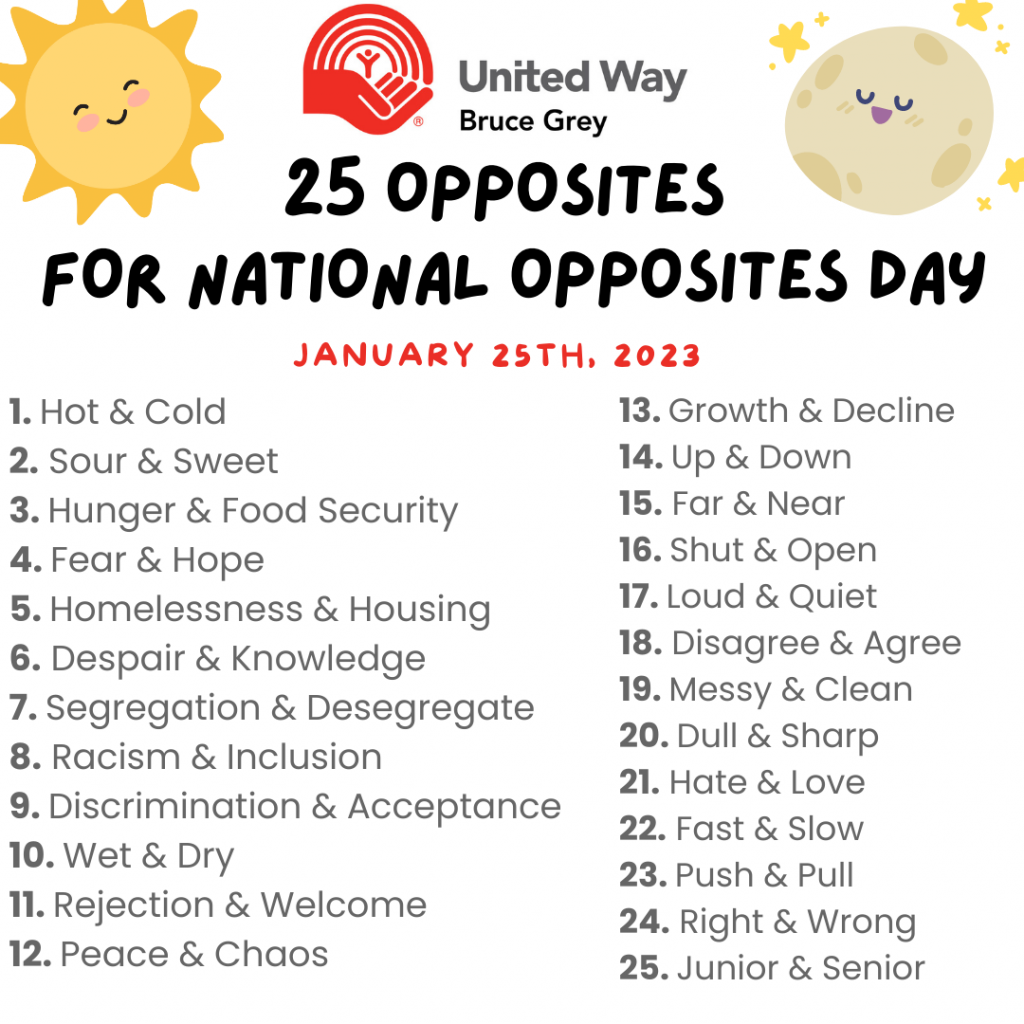 In this photo, we show 25 random opposites. To kick off our first 25th-anniversary celebration, we are celebrating National Opposite Day (which happens to be the 25th of January).
Some of these opposites relate to the work that United Way Bruce Grey does. For example:
Hot & Cold
When you think of hot and cold, you might think of your body experiencing those temperatures. The Utility Assistance Program helps people who have a hard time heating their homes. It provides grants, of up to $500 or $700 per funding source or utility, to low-income residents. The accounts need to be in arrears or are at risk of disconnection, or are already disconnected.
Sour & Sweet, Hunger & Food Security:
These opposites relate to Food Security In Bruce Grey. The United Way of Bruce Grey and associated food programs are working tirelessly to address the increased need in our community and provide fresh and healthy food to an ever-growing number of people in need. To read more about this project visit our Food Security page.
Fear & Hope:
Fear of being disconnected in the cold winter months. Hope knowing that you don't have the stress of this happening. United Way Bruce Grey advocated for no electricity disconnections in winter and now, each year, the Winter Disconnection Ban runs from November 15th to April 30th. During the ban, electricity and gas distributors can continue to charge late payment fees on past-due amounts. Read this article for more information about this: https://globalnews.ca/news/4928642/ontario-hydro-companies-voluntarily-ban-winter-disconnections/
Homelessness & Housing:
These opposites relate to our SOS program. The collaborative mobile SOS team supported by physicians engaged with addictions medicine will partner with healthcare and social service organizations (outlined in visual representation below) to offer the following Medical Care, Addictions Care, Crisis management, Comprehensive Mental Health Care, Covid-19 Response, Wrap-Around Social Care, and Supportive System Navigation.
Despair & Knowledge:
When you need knowledge, you can always call 211. 211 is an information and referral service that connects Canadians to non-emergency health, community, and social services in their area. This service is free and is available 24 hours a day, 7 days a week, every day of the year, in over 150 languages. 211 is a confidential and trustworthy guide to navigating to the right resources and programs when dealing with life's challenges.
Rejection & Welcome:
These opposites represent our Making Grey Bruce Home Project. Making Grey Bruce Home was funded by Immigration, Refugees & Citizenship Canada and involved developing, testing, and implementing a model for increasing the capacity of rural regions to support the social and economic integration of current and anticipated refugees and vulnerable newcomers. The overall goal of the project was to benefit communities that do not have formal settlement and support services. As part of the project, a virtual newcomer information hub (NewcomersBruceGrey.ca) was developed and implemented and provides valuable information that can be searched in 24 different languages.
Growth & Decline:
Growth & decline could represent multiple different United Way Bruce Grey programs as they all started from nothing and now are something. The project that we will relate to this opposite is the Giche Namewikwedong Reconciliation Garden. The committee was established in 2010 to plan, fund, and build a permanent Healing and Reconciliation Garden to recognize and celebrate Indigenous history and culture. The City of Owen Sound has dedicated a portion of Kelso Beach Park in support of this initiative. Since that time, the committee has worked with the city, indigenous, and community stakeholders to develop a detailed plan for a gathering place for all; a place that will feature Indigenous art, history, and cultural references.