Support for Newcomers
We are pleased to let you know that formal newcomer supports are now available through YMCA Settlement Services. Please contact them directly for supports:
Address: 945 3rd Avenue East, Suite 23, Owen Sound ON N4K 2K8
Email: settlement@osgb.ymca.ca
Phone: 519-371-9222 ext. 6 or 519-379-1512
Previous Projects and Resources Available to Service Providers
March 2019 marked the wrap up of our Making Grey Bruce Home Project and Rural Pathways for Newcomer Women Project was completed in July of 2021.  Making Grey Bruce Home was funded by Immigration, Refugees & Citizenship Canada and  involved developing, testing and implementing a model for increasing the capacity of rural regions to support the social and economic integration of current and anticipated refugees and vulnerable newcomers.  The overall goal of the project was to benefit communities that do not have formal settlement and support services.
As part of the project, a virtual newcomer information hub (NewcomersBruceGrey.ca) was developed and implemented and provides valuable information that can be searched in 24 different languages.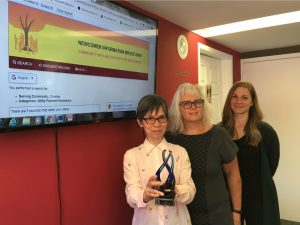 This online Information Hub received an International Award for Innovation from The Alliance of Information & Referral Systems. The Newcomer Hub was created by Community Connection / 211 Central East as part of the Making Grey Bruce Home's project in partnership with Welcoming Communities Grey Bruce.
In addition, two new training tools were created including a Service Provider Training Manual and a Volunteer Training Manual which are available for download below.
Service Provider Training Manual
Volunteer Mentor Training Manual
The United Way of Bruce Grey and the Grey Bruce Welcoming Communities Committee were appreciate the financial investment of $161,576 from the Ontario Ministry of Citizenship and Immigration in funding the "Making Grey Bruce Home" Project.

The "Rural Pathways for Newcomer Women in Grey Bruce Project" is an 18-month (August 2019 – December 2020) regional pilot project to develop, implement and evaluate new pathways to employment for visible minority newcomer women (VMNW) in a rural region without settlement services.
The United Way of Bruce Grey and the Welcoming Communities Grey Bruce Committee are thrilled to announce an investment of $246,576.00 from Immigration Refugees and Citizenship Canada in funding the Rural Pathways for Newcomer Women in Grey Bruce Project.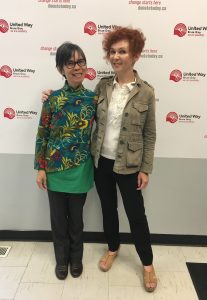 May Ip and Olga Gura were hired as Pathways Development Officers to connect with newcomer women as well as businesses and employment agencies in Bruce-Grey. In the initial stages of the project, detailed surveys were conducted to identify any potential barriers faced by newcomer women seeking employment.
With respect to results, 68 newcomer women participated in the surveys as did 79 employers and 9 employment service providers.
The surveys revealed that education, previous skills and experience not recognized in Canada as well as biases and discrimination were the major barriers for newcomer women seeking employment in Bruce and Grey Counties. In response to these results, the program developed a "Success For Everyone Toolkit" which includes evaluated tools, best practices and lessons learned from the Rural Pathways Project. This information can enhance the capacity of those in rural areas who work with visible minority newcomer/ immigrant women seeking success on their pathway to employment.