You can spread some light and hope by supporting the United Way of Bruce Grey Utility Assistance Program.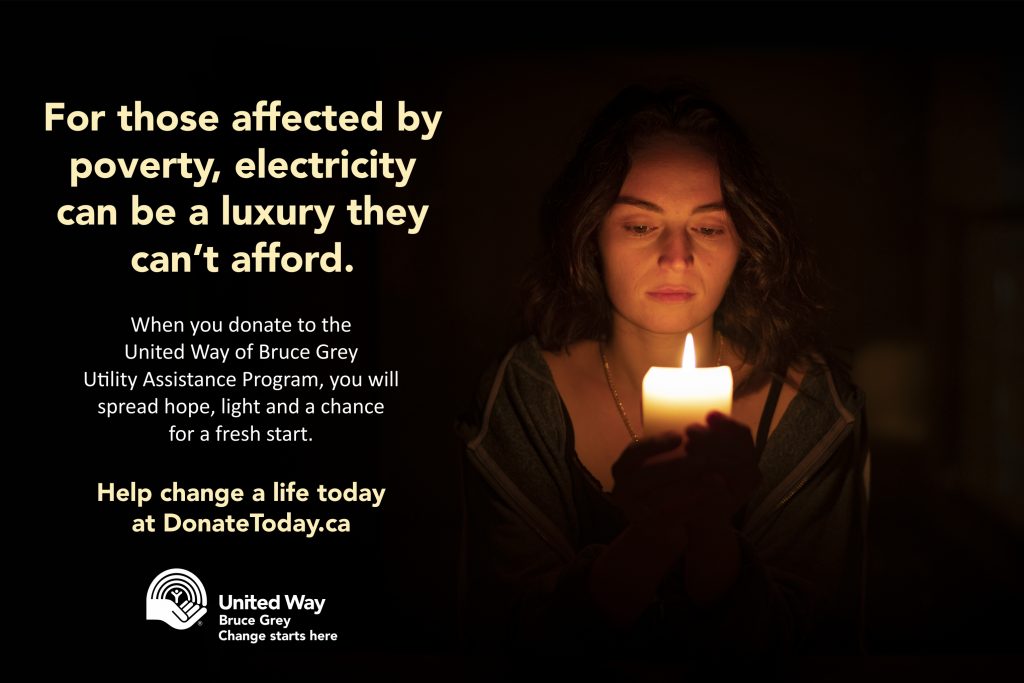 Light and heat…they are two of the most basic human needs we need to survive and to feel content and happy. For far too many however, having electricity and heat is a struggle to achieve and maintain.
When you donate to the United Way of Bruce Grey's Utility Assistance Program, you not only help to provide these two core needs, you are giving an individual or family a chance at a fresh start along with hope and the knowledge that their community cares about them. Your donation is a very powerful gift indeed.
Our Utility Relief Program provides one time financial assistance per year to low income households. To apply, applicants are guided through an application process that verifies the household income and other information. We assess the application and look for other cost saving opportunities that may benefit the household including the Ontario Energy Support Program (OESP) and other supports. Clients may also access our Financial Literacy Program that can help them develop a budget to improve their financial wellbeing along with a plan that can help them afford their basic needs.
To find out more about our Utility Assistance Program, please visit:
https://unitedwayofbrucegrey.com/services-offered/utility-assistance-program/
The Utility Assistance Program is one of three front line programs offered by the United Way of Bruce Grey. We also offer our Financial Literacy Program and our Backpack Program.
To make a secure donation and support your neighbours in need, visit https://www.canadahelps.org/en/charities/united-way-of-bruce-grey/ or call 519-376-1560. Donations are also accepted by mail or drop off at United Way of Bruce Grey, 380 9th Street East, Owen Sound, ON N0H 1G0.
Thank you for caring. We appreciate your support.
If you are low income and need assistance with your electricity bills or natural gas (Enbridge), call LEAP to apply at: 1-855-487-5327. For assistance with heating utilities such as oil, propane and wood, call 211 to apply.