#FinancialFridays: Understanding Insurance (Part 1)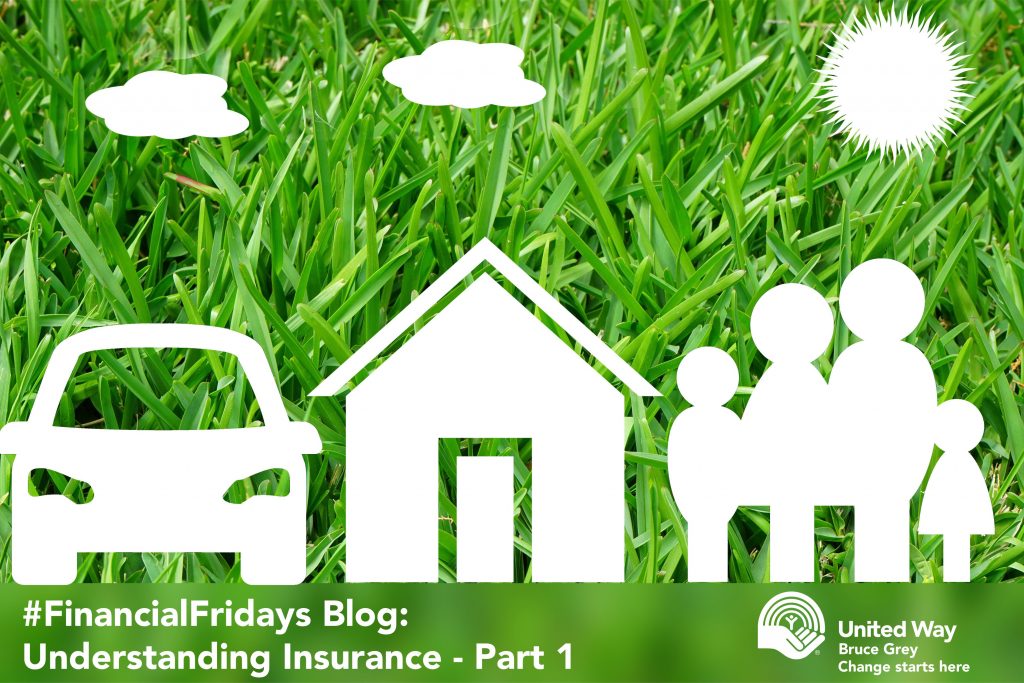 What are the 10 most important terms to understand about insurance.(Part 1 of 4).
Many people have insurance policies and many people who should have them don't. Some people have too much coverage and some have the wrong coverage. Many people don't understand the "language" of insurance companies and that is a big part of the problem.
Let's start with the 10 most common terms and build from there:
Insurance Policy – A policy is a document that clearly states what protection you have in case something happens to your "stuff". It will have a start and end date for coverage. It will say how much you have to pay and when. It will tell you what amount of money you will get if something happens to your stuff.
Insurance Premium – This is what you pay for the coverage in the policy. Many companies will deduct the premium automatically from your bank account or credit card. You pay tax on top of whatever the premium is. The premium is not the same for everyone, it depends on how "risky" you are to insure. Some insurance companies will allow you to make monthly payments to allow you to budget easier however; there may be a fee for this service.
"Risk" – Insurance companies use statistics to determine how likely it is that you are to have something happen to your stuff. For example, if you are male and under 25, statistically your age group is more likely to be involved in automobile accidents than females under 25, so expect to pay more money. If you smoke, your insurance policy to protect the stuff you keep in your apartment or house will cost more than for a non-smoker because smokers tend to have more claims.
Claims – If something happens to your stuff, you file a claim with your insurance company and they will pay out the value of your insurance policy. But there are some things that you need to know.
• Deductible – Virtually all insurance policies will have a deductible. Deductibles help to lower your insurance premiums. In the event of a claim, this is the amount that you agree to pay first. If you have a car accident and the damage is $750 (a very small accident) and you have collision coverage with a $500 deductible, you pay the $500 and the insurance company pays only $250. It is temping to increase your deductible; however, select an amount that you can afford.
• Accident-Free Discount – As mentioned your insurance policy has a limited period of time that it covers. If you do not have a claim, then your insurance company may give you a discount on your next renewal; however, if you do make a claim, not only do you not get to keep your previous discounts, your policy may increase because your "risk" has now gone up.
• Adjuster – This person works for the insurance company and whose job it is to make sure that your claim is done for the lowest amount of expense to the company as possible. Insurance companies do not automatically give you the amount of money in your policy.
• Replacement Value – A common misconception with insurance claims is that people think that when something happens to their insured stuff, they call the insurance company and almost magically, they get new stuff. That can happen, if you have "replacement value" insurance, although it doesn't happen magically. For example, say you have insured the contents of your home and your television is destroyed. If you have replacement value, you will get enough money for a brand new TV; if you don't have replacement value, and the TV is 6 years old, you will get enough money to buy a 6-year-old TV.
• Depreciated or current value – Most things depreciate in value, particularly things like cars and other vehicles. Depreciation means that over time your car decreases in value. A new car will depreciate thousands of dollars just by driving it off the sales lot, which is why it is so important to have "replacement value" on you high value items.
• Riders – You can add these optional additional coverages to your insurance policy. They can be useful things to have, that unfortunately, my insurance agent never mentioned to me. For example, if your car is written off in an accident, it has happened to me twice, you will need to find a replacement. After my first accident, I walked to the car dealership and the first thing the sales person said was you should have had a "rider" for a rental car if you car is in an accident. I asked my insurance company and it was just a few dollars to add to my policy, which I did and got to use for my second accident. You might also ask about "riders" for your home/tenant insurance for extra coverage for antiques or high value items like cameras. Ask about riders because your insurance agent may not remember to tell you.
• Limits on the number of claims – If you have too many claims your coverage may be cancelled or your insurance premiums will rise. For example, if you hit a deer (common where I live), you can only make so many claims before your policy will stop, I just hope someone has told the deer.
Tenants Insurance – If you rent an apartment or house, you should have insurance on your stuff because if something happens to the building, you will not have any coverage. There are special geared-to-income housing insurance packages that you can ask your property owner to explain. Even a small amount of insurance is worth the money, imagine having nothing except the clothes you are wearing; it happens all of the time. In the past month, as I write this post, there have been five rental properties in our region that have suffered total losses; only some of the people had insurance for their contents.
Liability, Collision, Comprehensive – To operate a car in Ontario, you must have liability insurance. Liability insurance covers you for damage that you cause other people; it does not cover damage to you or your vehicle. Collision covers damage that happens to your vehicle in accidents, as cars are expensive to repair this kind of insurance is expensive. Comprehensive covers your vehicle if it is damaged by falling or flying objects, vandalism, fire, theft, natural disasters, or riots but not collision. Collision and Comprehensive can be thousands of dollars a year. Your age and your driving experience and record can all have a very large impact on the cost of these insurance policies.
Limits on Coverage – While we have discussed some limits on coverage, there are other types of clauses that you should be aware of may reduce your possible claims. If you inflict the damage yourself on purpose, that may void your policy. For example, if you purposely break your car windshield to get a new one and the insurance company finds out, they will not pay and may sue you for fraud. If your tenants or home insurance doesn't cover sewage backup and your home suffers from flooding from sewage, you may not qualify for a claim. You cannot claim for losses if you have not previously purchased insurance for that particular circumstance. We will talk about these points in a future post.
In our next post we will talk in more detail about Tenants Insurance, then Automobile Insurance, and then finally about Life Insurance.
By guest blog writer: Paul Wagenaar, United Way Bruce Grey.
__________________________________________________________________________
If you need help improving your financial situation or need helpful budgeting advice, our Financial Literacy Program can help. Contact Caroline, our Program Coordinator at 519-378-4773 or email her at advice@unitedwaybg.com.