#FinancialFridays: Holiday Gift Giving On A Budget.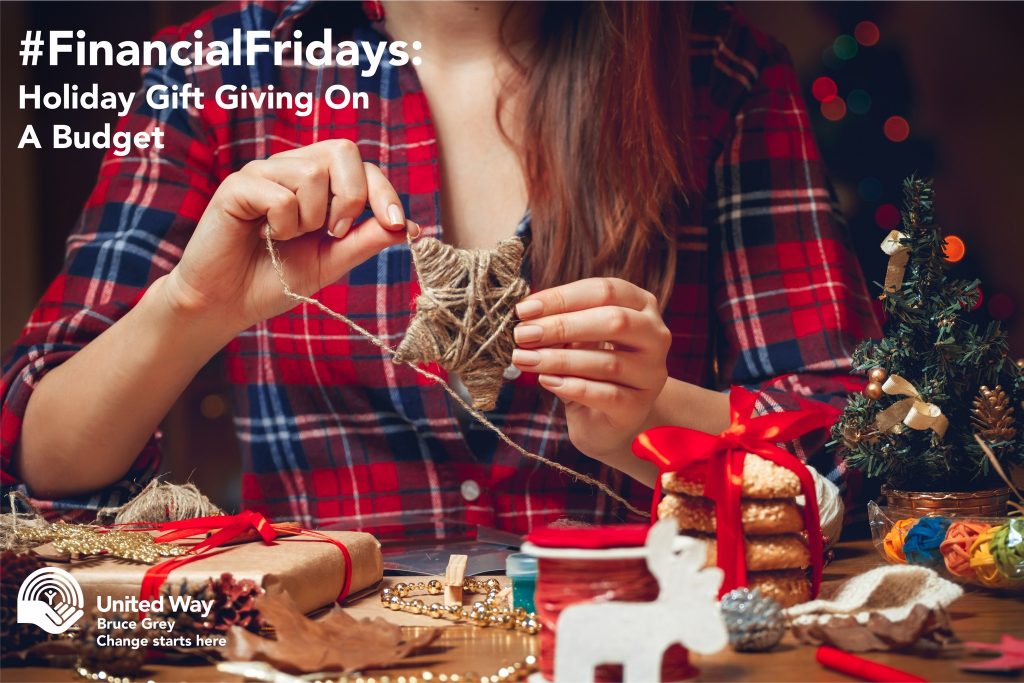 Holiday gift shopping should be a fun experience, but for many, especially for those who are tight on funds, the whole experience can become extremely stressful. With this in mind, we have put together a list of ideas that can help you stay within your financial limits, minimize the stress and have a really good Christmas as well.
Plan ahead and work out a spending budget. With a budget in place, Christmas shopping will be more fun because you know how much you can spend on the people that mean a lot to you. You may find it useful to categorize your budget into family, friends, co-workers, etc and if possible, leave a little aside for incidentals and unexpected costs that may come up. Tracking your spending is also important and removes the anxiety of "can I afford to purchase this?"
Make a shopping list and plan as much as possible. With a plan in place, it will be easier to stay within the confines of your list and not over-spend on spur-of-the-moment purchases.
Make cash purchases and avoid using your credit card so you can avoid high interest on your purchases.
Save money using coupons and/or price matching (if available).
Buy practical items or opt for a reasonable "experience" type gift such as a night out at the movies or bowling, a craft/paint night, etc. These types of gifts will create lasting memories for all who take part. You can also get creative and make up some home-made coupons that will make the gift even more fun.
Remember, big gifts don't necessarily mean more. A small thoughtful gift can be just as meaningful as a big expensive one. Take the time to think of a gift that will be both inexpensive and meaningful.
If money is tight or you have a very large family, its perfectly okay to do a "Secret Santa" gift exchange or draw names with a reasonable price limit. $5 to $20 is perfectly okay. Some families decide to skip presents for the adults and only buy gifts for the children. This too, is a wonderful option.
You can also opt to give a homemade or home cooked gift. Who doesn't love something that is handmade, handcrafted or is yummy to eat and the meaning behind the gift will be extra special. Homemade gifts are also a great way to involve the kids. Drawings, crafts and handmade Christmas ornaments or decorations make great meaningful gifts that will be appreciated by all.
Create a Christmas that is yours. Christmas doesn't need to built around presents. Why not make it about fun, maybe start a new tradition or two. Maybe take a Christmas walk or call that special someone you haven't talked to in a while. Experiences like this will be treasured and remembered.
Consider a low cost gifts such as:
Give the gift of time. If you have a skill that a loved one could benefit from (ie – handy work around the house, snow shovelling, yard care, computer or car repair, etc), you can give a gift that will really be appreciated.
Food. Who doesn't love a culinary treat. Whether you make something yourself or purchase something that is grown or produced local, it's possible to come up with something that is low cost and will be appreciated.
Photo gifts are another gift that can be low cost and will be well appreciated. You can purchase low cost frames at the dollar store or customize a do-it-yourself photo calendar that your loved ones will enjoy month after month.
Charitable gifts are another option especially if you are buying for something that has everything. You can choose to donate to a charity of their choice in their name in lieu of a gift. This is a great gift idea for someone who has everything and you don't have to spend a lot to make an impact.
Another fun way to save money is to create do-it-yourself wrapping paper. With a little paint and some brushes or sponges as well as some natural or white craft paper, you can create something that is truly unique. Handmade gift cards can be easily made, or you can cut up old Christmas cards for something different as well. Not feeling creative? You can purchase gift wrap and festive gift bags at dollar / discount stores usually at very reasonable prices.
If money is really tight, its important not to add more stress to your situation. Talk to your family and friends about your situation. You don't have to give them all the details but give them enough information so that they understand what you are going through. Remember – at the end of the day, it's not the gifts that are important, it's the people in our lives that matter. Your friends and family will understand.
Feeling overly stressed or having feelings that you can't cope through the holidays? Holiday/financial stress can be really hard and it's really important to talk to someone and share what you are experiencing. You are not alone. Below are some resources that can help you get the help you need.
Mental Health Crisis Line of Grey Bruce: 1-877-470-5200 (cmhagb.org)
Call or text 211 for information on resources geared towards mental health and all social, community, health and government services in your area. This service is available 24/7 and is completely confidential. You can also visit www.211Ontario.ca for more information.
Kids Help Phone: 1-800-668-6868 or visit KidsHelpPhone.ca
Wes for Youth Online (Wellness & Emotional Support for Youth): visit WesForYouthOnline.ca
Good 2 Talk: Post-Secondary Student Helpline: 1-866-925-5454 or visit Good2Talk.ca