Attention Seniors – please join us for a chat with "Mrs. Gardener" as she shares her passion and humour for gardening.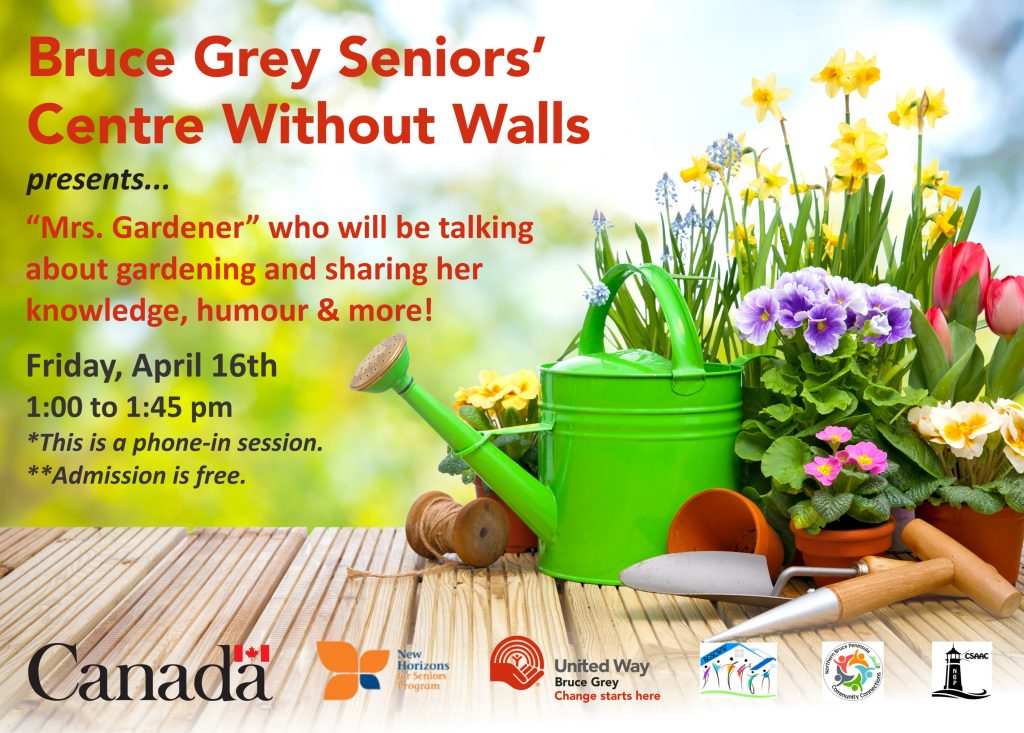 Interested in gardening? On Friday April 16th, at 1:00 – 1:45 p.m., you are invited to phone in to hear Joan Regan, a resident of Tobermory who writes the "Mrs. Gardener" article for each issue of the Tobermory Press Inc. Joan enjoys gardening and has many years of experience to share. Recent research recognizes the benefits for healthy living with gardening. We hope you can join us on Friday for Joan's humour, knowledge and experience in the garden.
This program is offered as part of the Bruce Grey Seniors' Centre Without Walls initiative. The program is geared towards seniors' 55+ and adults 18+ that identify as living with a disability.
Please feel free to share this information with a friend, family member or neighbour who is looking forward to gardening this year. Everyone is welcome!
To Take Part:
1) Phone in toll free 1-877-806-9883 Listen for the prompt.
2) Then input pass-code 555617#. You will be asked your name followed by the number sign #.
3) You will then be in the meeting.
For more information on the Seniors' Centre Without Walls initiative, visit: https://unitedwayofbrucegrey.com/seniors-centre-without-walls-bruce-grey/
Or contact Misty Schonauer at 519-376-1560 / misty@unitedwaybg.com.
The Bruce Grey Seniors' Centre Without Walls is made possible by the financial support of the Government Canada New Horizons for Seniors Funding along with support by the United Way of Bruce Grey and our local partners – Northern Bruce Peninsula Community Connections and CSAAC, and many amazing volunteers.