You can spread some joy to some seniors this Valentine's Day and Family Day. Find out more here.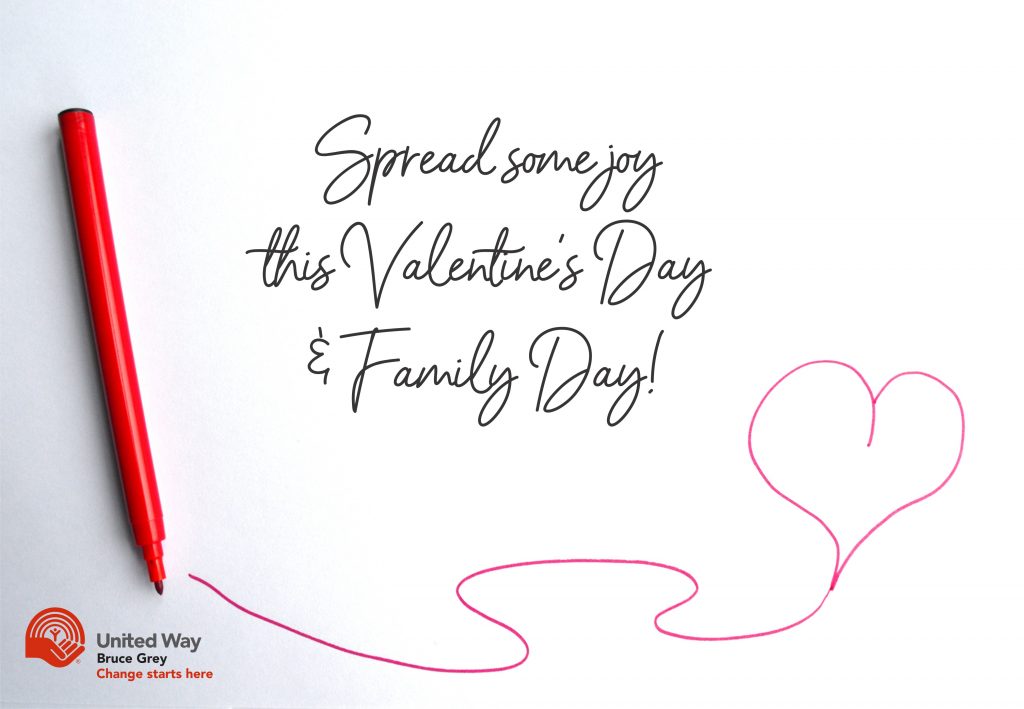 Valentine's Day and Family Day are just around the corner. With visiting restrictions in place, many seniors in long term care will be missing their family and friends on these special occasions. If you are looking for a meaningful way to give back to your community, we invite you to consider sending a greeting card to a resident living in long term care.
Sending a greeting card with a short note to someone who may be feeling lonely or disconnected is a great way to spread some joy and kindness. You can choose to involve the whole family and children can take part in the fun as well. Hand-made cards or pictures would also be very much appreciated and will definitely brighten someone's day. And if you are looking for a fun team building project, this is a great activity to do with your co-workers as well!
To send a card to a resident in long term care, simply address the card to "Any Resident" and then include the address provided (see list below). Stamped envelopes can then be mailed and will be distributed to the resident by the LTC facility. Send one or send many. The choice is completely up to you.
If you have any questions about this initiative, please reach out to us at 519-376-1560 or thedo@unitedwaybg.com
Thank you for caring about your community and for making a difference one card at a time!
Abbeyfield Durham
Box 639
165 Cross Street South
Durham, Ontario
N0G 1R0
Brucelea Haven
41 McGivern St W.,
Walkerton, ON
N0G 2V0
Elgin Abbey Long Term Care and Retirement Residence
380 1st Ave, N. Box 7
Chesley, ON
N0G 1L0
Errinrung Nursing & Retirement Home
67 Bruce St S,
Thornbury, ON
N0H 2P0
40 in retirement home & 59 in long term care
Gateway Haven
671 Frank St
Wiarton ON
N0H 2T0
50-60 residents in total
Georgian Heights Long Term Care
1115 10th Street East,
Owen Sound, ON
N4K 6B1
Grey Gables
PO Box 380
Markdale, ON
N0C 1H0
John Joseph Place / Hannah Walker Place
846 2nd Ave W,
Owen Sound, ON
N4K 4M5
45 residents
Kelso Pines Retirement Lodge
1685 3rd Ave W,
Owen Sound, ON
N4K 4R3
94 residents
Kingsway Arms Elgin Lodge
551 Mary St,
Port Elgin, ON
N0H 2C2
98 residents
Lee Manor
875 6th Street East,
Owen Sound, ON
N4K 5W5
Maple View Long-Term Care Residence
1029 4th Ave W,
Owen Sound, ON
N4K 4W1
30 residents
Meaford Long Term Care
135 William Street
Meaford, ON
N4L 1T4
Nine Mile Villa
469 Inglis St,
Lucknow, ON
N0G 2H0
12 residents
Rockwood Terrace
575 Saddler Street East,
Durham, ON
N0G 1R0
Summit Place
850 4th St. E
Owen Sound, ON
N4K 6A3
119 residents
Trillium Court
550 Philip Place,
Kincardine, ON
N2Z 3A6
Village Seniors Community
101 10th Street.
Hanover, ON
N4N 1M9
Wiarton Retirement Residence
598 Gould St, Wiarton, ON
N0H 2T0
7 residents
Work at a local long term care residence but don't see your home listed? Please contact us at 519-376-1560 and we would be happy to post it for you.