You can help make 2021 "A Better Year!"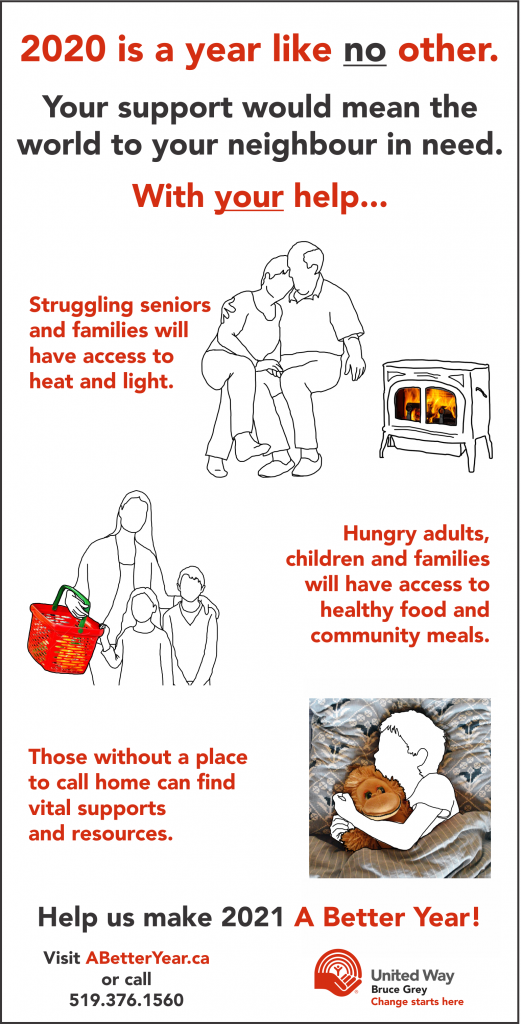 2020 is about to be behind us (whew!) but what is most clear is that this is one year that will be prominent in our minds for many years to come.
Covid-19 has not been kind to our most vulnerable. Low income families and individuals, isolated seniors, the homeless and those battling mental health and addictions have experienced tough challenges. With our incredible donor support however, we have been able to support those in need throughout the pandemic. You made real change happen. There were fresh starts and chances for a better life. You showed those struggling that their community truly cares about them. Thank you so much for that.
When you choose to donate to the United Way of Bruce Grey, you are providing life changing vital assistance to a local individual or family. All funds raised stay local to combat poverty and other social issues in Bruce and Grey Counties.
As we close out this year and look forward to the next, our core goal is to make 2021 "A Better Year" for those in need in communities across our region. Your support will allow us to continue serving those in need. To learn more about our A Better Year Campaign- please visit www.ABetterYear.ca
To donate online through Canada Helps, please visit https://www.canadahelps.org/en/dn/54389
To donate by phone by credit card, please call 519-376-1560.
Donations may also be dropped off or mailed to: United Way of Bruce Grey, 380 9th Street East, Owen Sound, ON N4K 1P1.
Thank you for supporting your community and for bettering the lives of those less fortunate. We wish you the best for 2021. May this coming year bring you happiness and good health. Stay safe. Be well.