We are in need of a variety of essential care items for our Vulnerable Seniors Hamper Project. Can you help?
We are in the process of preparing some hampers full of essential items for vulnerable seniors in our local communities and we could use your help!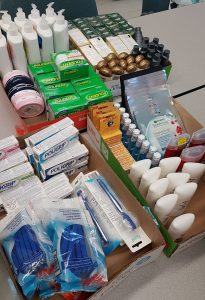 We are in need of a variety of items that will be included in the hampers. Suggestions for support items in the hampers include; razors/shaving cream, denture cream, polident, denture tooth brushes, non-medical facemasks, etc. Monetary donations would also be appreciated and are accepted online at DonateToday.ca.
We are planning on preparing 325 – 350 hampers for those who are isolated and/ or in need. If we receive less than 325 items of any kind, we will provide these to local Food Banks to provide on a request-by-request basis to area seniors.
If you would like to donate items for our Senior Hamper Project, you can drop them off at the United Way of Bruce Grey office Monday to Friday, 8:30 am to 4:30 pm.
If items could be dropped off on Monday, May 4th, that would be very much appreciated.
We would appreciate any support you could give – even if it's a simple share of this post. Thank you so much.
Note – The photo shown here shows items donated by a member of our community. Sending out some big thanks to this special person. 
For more information, please give us a call at 519-376-1560.