Today is National Human Trafficking Awareness Day. Do you now the signs?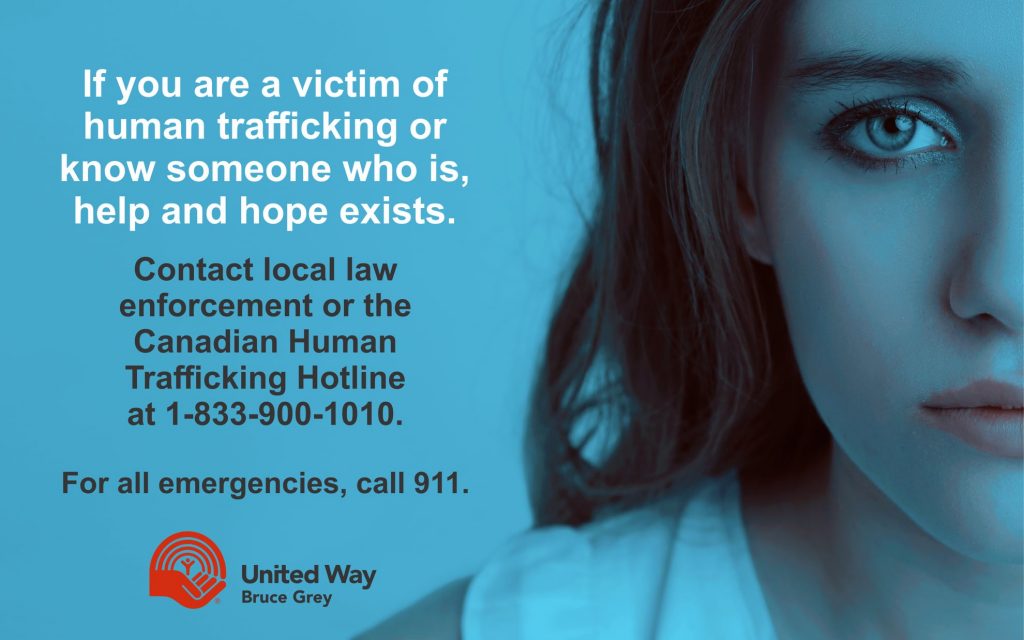 Today is National Human Trafficking Awareness Day. Unknown to many, human trafficking occurs right here in Bruce and Grey Counties. At the United Way of Bruce Grey, we care about the victims whose lives have been impacted from this crime that often exists in secret and silence.
We have compiled a list of resources for both victims and the general public. Let's all do our part to be aware of the potential signs so that we can minimize human trafficking in our area.
What is human trafficking?
Human trafficking is the exploitation of human beings for gain which is usually monetary in nature. Trafficking exploitation can exist in many forms and usually involves victims being caused to provide sexual services or labour through force, coercion, deception and/or abuse of trust, power or authority. Human trafficking often results in substantial physical, psychological, and emotional trauma to the victims. Human trafficking can involve both children and adults and both males and females can be victims.
The types of human trafficking can include sex trafficking and exploitation, forced labour (often without pay), domestic servitude (often without pay), bonded labour, forced marriage and others.
Human trafficking is a crime and often the perpetrators face other charges including illegal drugs, fraud, money laundering, etc.
What are the signs of human trafficking?
Victims may exhibit a variety of signs however, it's important to note that if a person is exhibiting one of these signs, it's doesn't necessarily mean that he or she is being trafficked but it may mean that further investigation may be warranted. Some common signs include:
A person suddenly has large amounts of cash or expensive belongings such as clothes, jewellery, purses etc which is out of the ordinary.
A change in behaviour or personality and withdrawing from friends and family.
Absenteeism from school or work.
Being controlled or watched and escorted by others in public.
Not having a passport or other forms of identification in their possession.
Being moved frequently, often claiming to be new or just visiting.
Person is kept isolated and not allowed to contact family or friends.
Victim may have had their cell phone taken way or phone numbers from family and friends may be have been blocked.
Exhibits body language that relays that they are afraid, anxious, submissive, etc. May show a fear of those in authority or law enforcement.
Victim may be malnourished or showing signs that they have a drug dependency.
Victim may show signs of physical abuse including unexplained bruises, cuts, broken bones, cigarette burns on the body or other signs of physical abuse.
Victim may be branded with tattoos of the trafficker's name or symbol, often on the neck area or lower back.
Person may lie about their age or present false identification.
Victim may appear to be controlled by a pimp that may present as a boyfriend that promises affection or glamorous lifestyle ("Romeo Pimp") or a pimp that finds young victims that uses violence or sexual assault to coerce them into trafficking ("Gorilla Pimp").
For a full list of trafficking signs, visit:
https://www.canadiancentretoendhumantrafficking.ca/signs-of-human-trafficking/
What can I do if I suspect human trafficking?
Learning about human trafficking and the signs and being alert and aware is a great way to start. If you suspect a person is being trafficked, you may report it to local law enforcement or you can contact the Canadian Human Trafficking Hotline at 1-833-900-1010. Hotline Response Advocates will connect callers to support and services and will also take tips, answer questions and forward information, when appropriate, to law enforcement. This service is available 24 hours day and 7 days a week. More information can be found at www.CanadianHumanTraffickingHotline.ca. You may also submit tips on Human Trafficking to Crime Stoppers by calling 1-800-222-8477 (TIPS) or by visiting https://www.crimestop-gb.org/index.php/tips/submit-a-tip
For all emergencies, call 911.
What services are available to victims in Bruce and Grey County?
Victim Services Bruce Grey Perth: In partnership with emergency services, the organization provides assistance to victims of human trafficking which may need access to safe and secure housing, food, clothing and counselling. Contact their 24 hour contact line at: 1-866-376-9852 or visit www.vsbgp.com for more information.
The Women's Centre Grey Bruce: If you are a woman suffering from abuse, harassment or assault, you do not have to face this crisis alone. You can call their Crisis Help Line at 519-371-1600 / 1-800-265-3722 or text them at 226-974-0755.
Canadian Mental Health Association Grey Bruce: If you are experiencing mental health distress or crisis or addiction, contact their Mental Health Crisis Line of Grey Bruce at 1-877-470-5200. Staff are available to speak with you 24 hours a day, 7 days a week.
211: For access to a full range of community, social and government support programs and services, call 211 or visit www.211Ontario.ca
If you are a victim of human trafficking, we remind you that you matter…your life matters. You deserve to be happy and to live the life you want to live. Please get help today.