Today is #GivingTuesdayNow. Please join us for a day of thanks and giving back.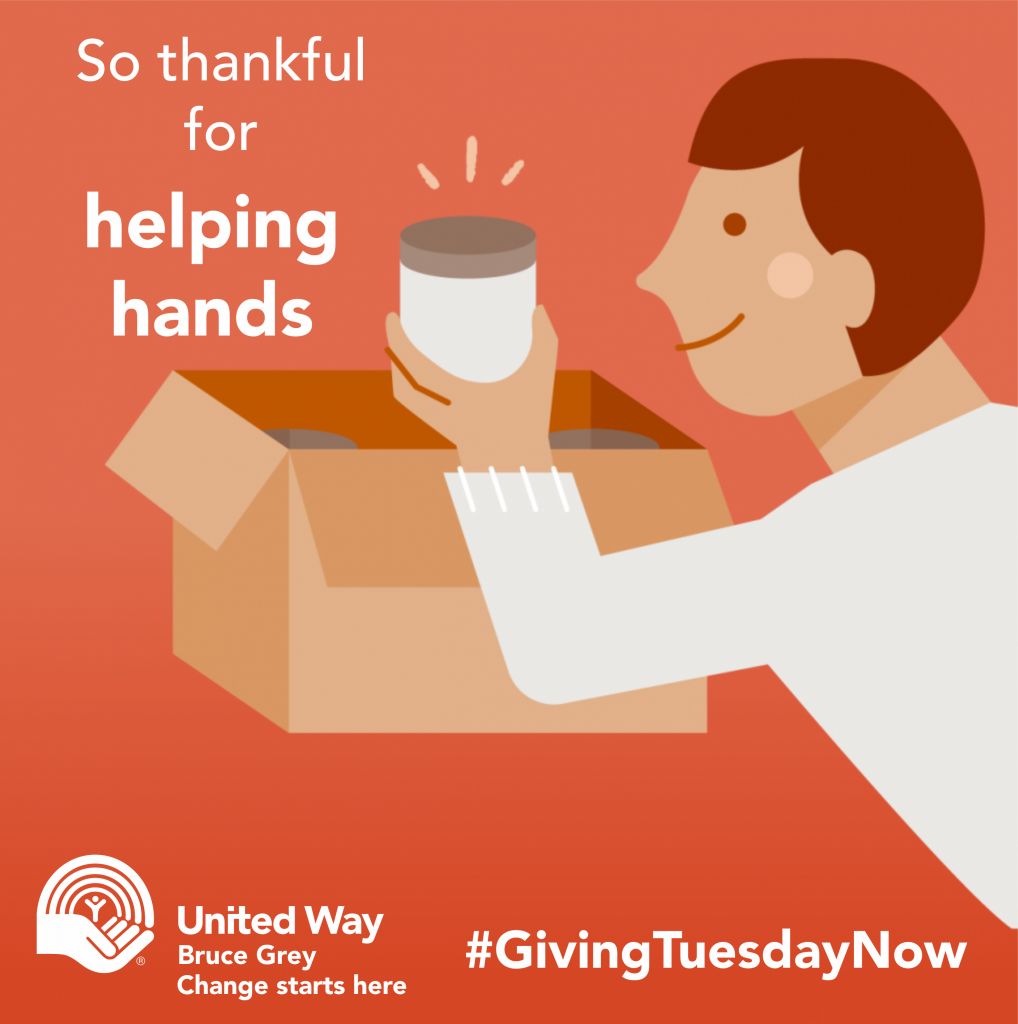 Today is

#GivingTuesdayNow

. This is a global day of giving and unity during an unprecedented need caused by the

#Covid19

pandemic. It's also a day to give back to your community in a way that is meaningful to you. We believe that everyone has the power to make a difference.
We invite you to join in the movement by donating what you can to ensure that our front line programs and supports can continue to support the most vulnerable in Bruce and Grey Counties. To donate online through Canada Helps, please visit DonateToday.ca or call 519-376-1560. Donations by cheque may be mailed to: United Way of Bruce Grey, 380 9th Street East, Owen Sound, ON, N4K 1P1.
We are also collecting donations of items for our Seniors Hamper Project as well as Starter Home Kits for homeless individuals who have recently been housed and have nothing. (Stay tuned for more information about this).
If you are unable to give at this time, we encourage you to spread messages of hope, happiness, gratitude and thanks for our front line workers. Fun ideas can include sidewalk chalk messages, handmade signs in your windows, painted rocks, artwork, poems and more! Please share them with us and be sure to include the hashtag
#GivingTuesdayNowBG
We are
#InThisTogether
and would appreciate any support you could give.
Today is also about giving thanks and we at the United Way feel grateful. We are proud to live and work in the community that is Bruce-Grey. We have witnessed incredible outpouring of compassion and support since the pandemic broke out. It is so heartwarming. So many caring individuals and businesses right across the region are doing what they can by volunteering their time to help seniors and other vulnerable individuals and all these efforts are so appreciated. The work of all those "helping hands" does not go unnoticed.
Thank you also to our many donors who continue to support our efforts to combat poverty during the Covid-19 pandemic. We very much appreciate your financial support.
Our hearts are full. Thank you.