The deadline to make your 2020 charitable tax donation is December 31st.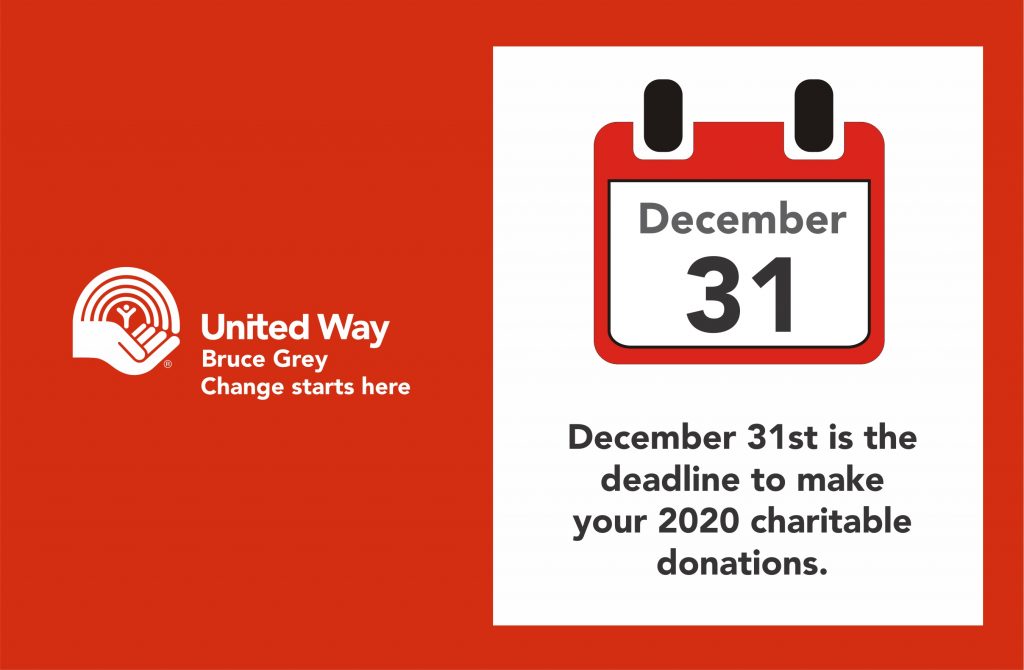 The deadline to make your charitable contributions for the 2020 tax year is December 31st. Making a donation to a charitable organization such as the United Way of Bruce Grey can offer valuable tax savings come income tax time.
To claim your donation tax credits, be sure to report all donations made on your federal and provincial tax return. As a rule, at the federal level, your credit will be 15 percent of the first $200 of donations and 29 percent of any additional donations. The credit may reach up to 33 percent if you are in the highest tax bracket.
We would really appreciate your support. 2020 has been a tough year for low income individuals and families and those affected economically by Covid-19. With your help however, we will continue to tackle local social issues such as poverty, homelessness, hunger, isolation and more. Your gift will stay local and will offer hope and fresh starts. Lives will be changed.
To make a donation to the UWBG, there are a few options available to you.
You may donate online through Canada Helps at www.DonateToday.ca
Donate by phone by credit card by calling our office at 519-376-1560.
Drop off or mail a cheque to: United Way of Bruce Grey, 380 9th Street East, Owen Sound, ON N4K 1P1
Thank you to our incredible donors who supported our work this past year. The pandemic has affected our ability to hold fundraising events but with your support, we have been able to serve the most vulnerable in our communities across Bruce and Grey Counties. Thank you so much for that.