Socks are needed for our annual OSHaRE & United Way Bruce Grey Christmas Sock Campaign
You can spread some warmth this holiday season by donating socks to the OSHaRE (Owen Sound Hunger and Relief Effort) & United Way Christmas Sock Campaign.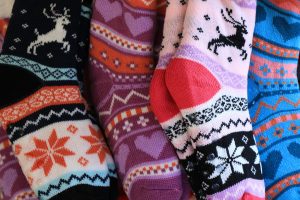 In past 4 years we have provided a pair of socks, a mug and candy to the attendees of OSHaRE during the festive season. However patrons are reporting that they would rather have more socks, and are ok for mugs, so we changing things up this year. For this campaign, we are doubling up the socks but still including the candy!
Warm socks are preferred. Socks for all ages and genders are needed.  Gift packs will be distributed to OSHaRE patrons during the holidays.
To take part, you can drop off new socks at the United Way office at 380 9th Street East in Owen Sound. If you have purchased the socks and have a receipt, we are happy to provide you with a charitable receipt.
Cash donations are also appreciated as it allows us to purchase more socks and candy. You may make your donation to our Community Fund in person or online through Canada Helps at www.DonateToday.ca
 Just make sure you specify "socks" when you make the donation! 
Thank you for your support and helping those in need. <3
Local retailers such as Giant Tiger (shown here) have some great deals on socks right now. 🙂