Scenic City Game Emporium presents Geeky Trivia Night in support of our Backpack Program.
Don't miss "Geeky Trivia Night" Saturday, July 27th at 7 pm presented by Scenic City Game Emporium in support of the United Way Bruce Grey's Backpack Program.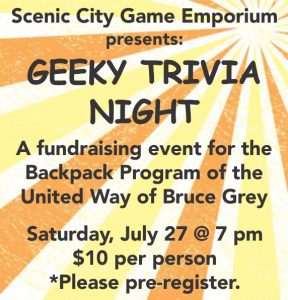 To take part, simply pre-register your teams of 2 to 4 people before Friday, July 26th by emailing sceniccitygames@hotmail.com or by calling 519-416-1230. Cost is $10 per person.
Scenic City Game Emporium is located at 807 Second Avenue East in downtown Owen Sound.
A mighty BIG thank you to Jenn and Geoff at Scenic City Games for hosting this event!
Can't make the event but would like to donate to our Backpack Program? That would be awesome! We would really appreciate that! 
 Visit DonateToday.ca to place a secure online donation or drop by our office located at 380 9th Street East in Owen Sound.
For more information about our Backpack Program, please visit www.Backpacks4Kids.ca