It's International Women's Day and we are taking a stand on "Period Poverty."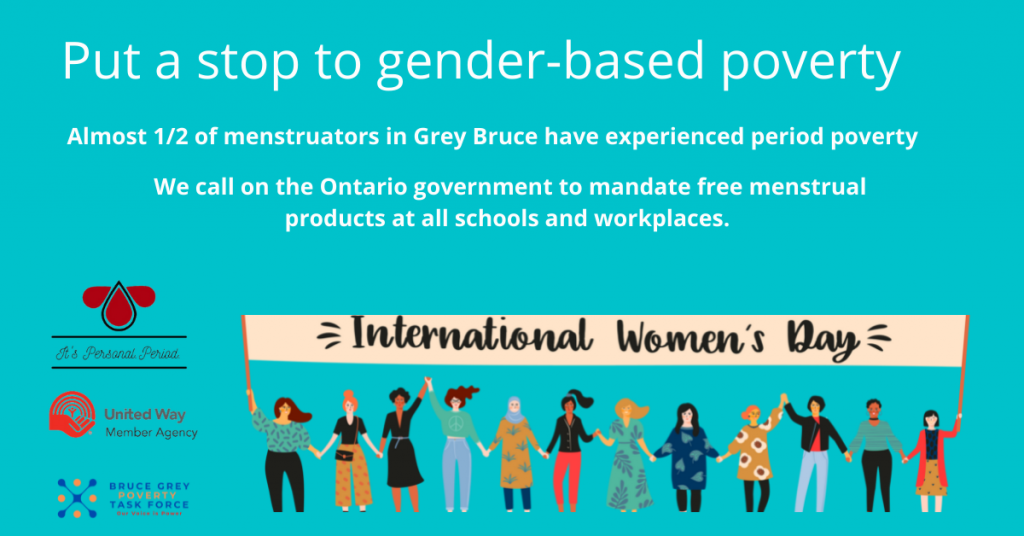 Today is International Women's Day. Today we ask you to consider that the right for all who menstruate to do so safely and with dignity is an equity issue.
A recent study by It's Personal Period:
• almost 1/2 of menstruators in Grey Bruce have experienced period poverty,
• 1 in every 2 participants had struggled to purchase period products,
• of those who have struggled, 81% have missed important obligations such as school and work due to lack of access.
The Bruce Grey Poverty Task Force has advocated to the Ontario government to mandate free menstrual products at all schools and workplaces.
We support the efforts of grassroots organizations such as It's Personal Period, to provide free products to students at schools or food banks and to reduce the stigma around period poverty.
It's Personal Period is partnering with the United Way of Bruce Grey to offer tax receiptable donation opportunities. All donations designated to It's Personal. Period will be used to purchase menstrual products for distribution through local Its Personal. Period partnerships.
"By addressing period poverty through an intersectional lens and building partnerships with likeminded community members, It's Personal Period believes the advancement of menstrual equity in Grey and Bruce is obtainable." – Alicia Sylvest, Founder, It's Personal Period.
A donation to It's Personal Period ensures that those who menstruate in Grey Bruce have equitable opportunities when it comes to menstruation.
How to donate:
1) Drop off menstruation supplies to your local donation spot. This link will direct you to an interactive map
https://www.itspersonalperiod.com/resources
2) Monetary donations are accepted through the United Way of Bruce Grey at:
https://www.itspersonalperiod.com/monetary-donations or by calling 519-376-1560.
You can also connect with It's Personal Period on Facebook at: https://www.facebook.com/groups/ItsPersonalperiod
Thank you for caring about your community.