#FinancialFridays: Understanding Insurance – Part 2: Tenant's Insurance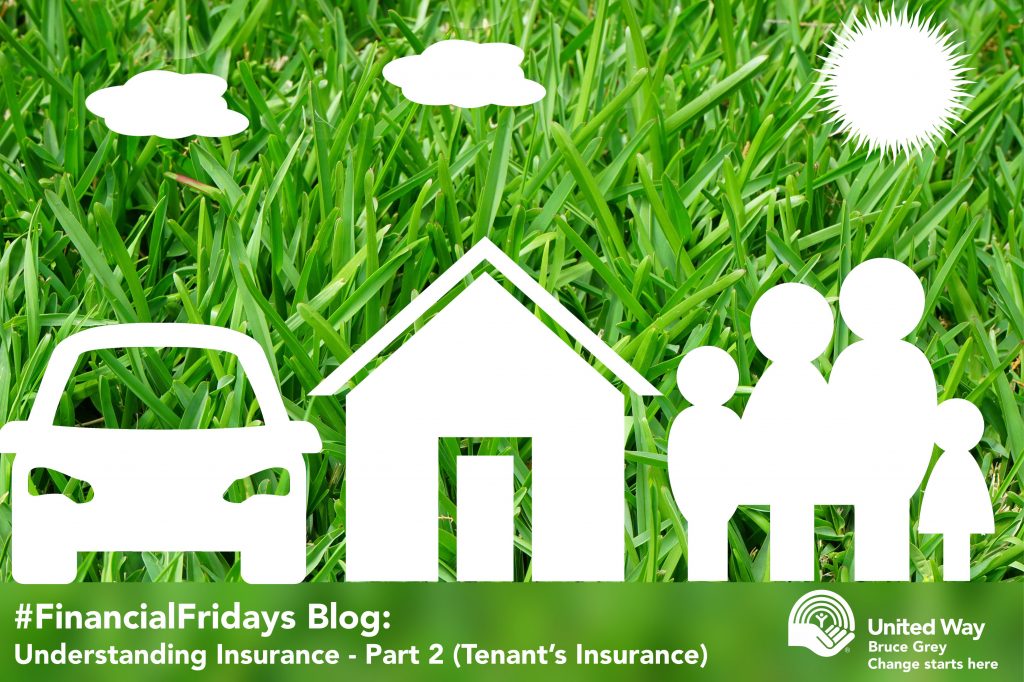 According to the Insurance Board of Canada, about 50% of renters in Canada do not have insurance. There is a variety of reasons why and this post is intended to correct some common myths and misconceptions and to provide some resources so you can make an informed decision.
Before starting, we should define: "What is Tenant's Insurance?" According the the Insurance Bureau of Canada:
– Tenant Insurance covers the cost to repair or replace , clothes and most household items;
– Tenant Insurance provides liability insurance if your "faulty toaster" causes a fire and damages other units in your building; or if someone slips and falls and is hurt in your unit;
– Tenant Insurance pays your additional living expenses, in certain circumstances, while your apartment is repaired.
Common Myth – "I don't need to insure my "stuff" because it isn't worth anything." Many people think that; however, if you start making a list of what it would cost you to replace everything; you will find that it quickly adds up and the cost will surprise you. Imagine only having the clothes you are wearing and the things you have in your pockets.
Common Myth – "I don't need insurance because the building owner should have insurance." Property owners do usually have insurance; however, it only covers their assets: the building and their "stuff", it doesn't cover your "stuff'". In addition, the property owner's policy does not cover your living expenses. Tenant's insurance policies can provide assistance to cover your ADDITIONAL living expenses while your apartment or home is not available or under repair, costs that can be significant. For example, if your apartment is being repaired and you normally pay $900 for rent and your temporary place costs $1100 per month, the insurance company will pay the additional $200.
Common Myth – "I have one or more roommates and they have insurance." Each tenant in a home or apartment needs to have his or her own insurance. Your roommate's insurance company will not pay for your "stuff."
Common Myth – "I can't afford to have insurance." Insurance is like clothing, "There are policies to fit all budgets and one size does not fit all." Shop around and compare. Many companies can provide free quotes on-line. Policies for clients in "geared to income housing" may be less than $20/month for basic plans. In addition, many insurance companies will offer discounts if you bundle you car insurance with your tenants insurance.
Common Myth – "Insurance is complicated and I don't understand anything about it." Insurance is complicated and the industry has a language all of their own. There are resources available: 211 is a great place to start; the Insurance Board of Canada has a website that explains many of the terms and will answer your questions free. This the link: Insurance Board of Canada
Common Myth – "I don't have insurance because the deductibles are too high for me to pay." Many people do not realize that deductibles can be changed to match what you can afford. Also depending upon the type of loss the insurance company can subtract the deductible from funds they would pay directly to you. However, be careful as this only covers the cost of replacing "stuff" should you need repairs, they will often only cover the portion of the repair leaving you to pay the difference to any contractors.
Common Myth – "The insurance companies don't want to pay; they will find some way to get out of paying me." Insurance policies do have clauses that limit coverage; they do not cover every type of accident. It is important to ask, "What is covered and what is not covered?" If this happens, finding an advocate in the community can help; ask victim services if they could recommend someone.
Common Myth – "I can purchase tenant insurance after something has happened and then make a claim right away." Insurance companies do not work like that, your insurance only covers you for the insurance you have when the incident happens.
Common Myth – "I live in a big building, the odds are if there is a fire, I won't be affected." Unfortunately, many times, if a building, even a large one, is damaged by fire, the entire building is closed and often the power is turned off. Water from putting out a fire can damage many units around your unit.
Common Myth – "I just rent my apartment; I am not responsible for damages to the building." If your faulty toaster burns down the building or your bathtub overflows because you forgot to turn the water off, you may be held liable for repair costs.
Common Myth – "It will never happen to me." Everyone says that. Watch the news; unfortunately, it happens all the time.
Things to Know: All Risks vs Named Perils – An "all risks" policy will cover all of your belongings (unless specifically excluded) for all perils. Perils are things like fire, theft, earthquake, tornado, etc. A "named peril" policy will cover your belongings only if they are destroyed by those specific perils. "All risks" policies will usually cost more but they can give you the "piece of mind" not to be worried. Before signing anything, understand what your policy covers and what it does not cover.
Things to Know: Replacement Value vs Actual Cash Value – A common misconception with insurance claims is that people think that when something happens to their insured stuff, they call the insurance company and almost magically, they get new "stuff." That can happen, if you have "replacement value" insurance, although it doesn't happen magically. For example, say you have insured the contents of your home and your television is destroyed. If you have replacement value, you will get enough money for a brand new TV; if you don't have replacement value, and the TV is 6 years old, you will get enough money to buy a 6-year-old TV that is Actual Cash Value.
Things to Know: Sewage backup or septic tank backup coverage – These are specific perils and you should strongly consider having these coverages for all of the obvious reasons.
Things to Know: Make sure you mention any high value items such as electronics and other valuables; they may require "extra" insurance.

Things to Know: Keep a photographic record of your belongings and consider having additional coverage on high value items such as antiques, cameras, and other valuables. Keep the record in a safe place, preferably not in your apartment. Use free photo cloud storage to have photos of your stuff handy, should your devices be damaged in the event.
Things to Know: You should review your insurance policy(s) as your circumstances change, whenever you move, when you acquire more belongings, and/or if you live with another person.
Things to Know: The difference between an insurance company and an insurance broker. An insurance company will sell you any of the policies that their company sells. An insurance broker will charge a fee and search for the "best price" or "best package" based on what you have said you wanted for insurance and may work with several insurance companies to build your coverage.
Resources/Source Material:
1.) The Insurance Board of Canada website: IBC – Website
2.) "What every renter needs to know about tenant's insurance" – CBC News – Natalie Nawoski Sept 5, 2018
By guest blog writer: Paul Wagenaar, United Way Bruce Grey.
_______________________________________________________
If you need help improving your financial situation or need helpful budgeting advice, our Financial Literacy Program can help.
Contact Caroline, our Program Coordinator at 519-378-4773 or email her at advice@unitedwaybg.com.