#FinancialFridays: Holiday Monetary Gifts and Gift Cards.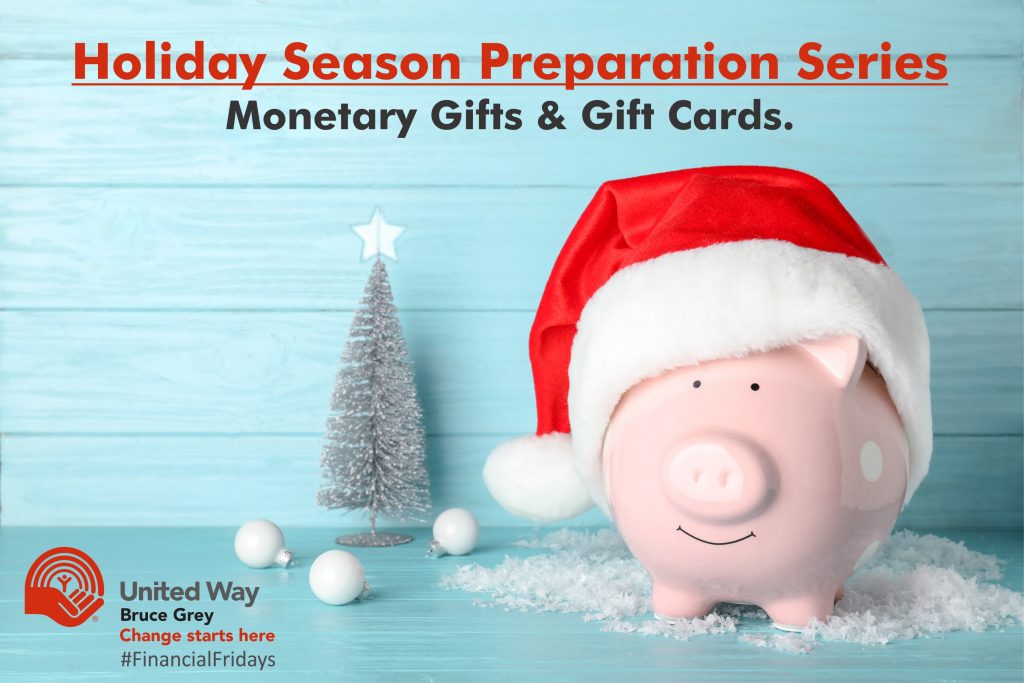 I was at a presentation once and the woman who spoke was given flowers at the end of her talk. She turned to the audience and said "Never say "You shouldn't have." Always say thank you when given something. If there is no one to receive, there can be no giving." That stayed with me. I try to accept gifts graciously and know it is one way people show they care about you.
As I have emphasized throughout this Holiday Series, having a budget and a plan are keys to limiting negative impacts on your finances. We have talked about planning for your giving. This time, we are going to talk about planning for your receiving.
When we receive gifts, it is an opportunity. We now have a chance to use that gift to benefit ourselves and others. If you receive money or gift cards, think about how these gifts can support your budget and your longer term goals. Here are some ideas about how to use and invest those gifts.
• Gift Cards – Review your budget and see where you can best use the gift card you received. If the gift card is for a grocery store, think about when would be most beneficial to use it. If the gift card can replace some money that you usually use to buy something else, where best can you put that newly available money? Gift cards hold their value so you don't need to use the entire amount right away; You can plan to use it over a longer period of time which can help your monthly budget.
• Money – Receiving money outside of your normal monthly budget is very exciting. Think about how you can best benefit from this money. Is it paying a debt so you save on the interest you would have to pay otherwise? Is it pre-paying your rent or utilities so you have some peace of mind? Having extra money all of a sudden usually encourages us to buy something new we want instead of covering a need. This is a different year and how we use gifts we receive can also be different. Consider buying something second hand instead, which will let money you do receive go further.
• Money Children Receive – Children can learn about budgeting at an early age, which helps them better manage money as they grow up. If the children in your life receive money, consider speaking with them about putting all or a portion in a Registered Education Savings Plan (RESP) to save for future education. You can then speak to them about how money grows when you invest it. Speak to them about starting or adding to their very own savings account to save for a future goal. It can be a small goal like a new scooter or clothing, or a larger goal. This is an opportunity for them too!
Taking time to think about the gifts you receive allows you to appreciate the giver of the gift and how this gift can contribute to your wellbeing. This is for all gifts, not just gift cards and money. You can budget your chocolate and savour it over time. Let's let the good stuff last as long as possible!
Thank you for joining us for this Holiday Series. I wish you all a wonderful Holiday Season! – Caroline Araujo Abbots, UWBG Financial Literacy Program Coordinator
Struggling to make ends meet? Looking to improve your financial health? Contact Caroline to arrange an appointment at advice@unitedwaybg.com or by phone at 519-378-4773. The service is free and completely confidential.