#FinancialFridays: Be Scam Smart – How to Keep Your Identity and Money Safe!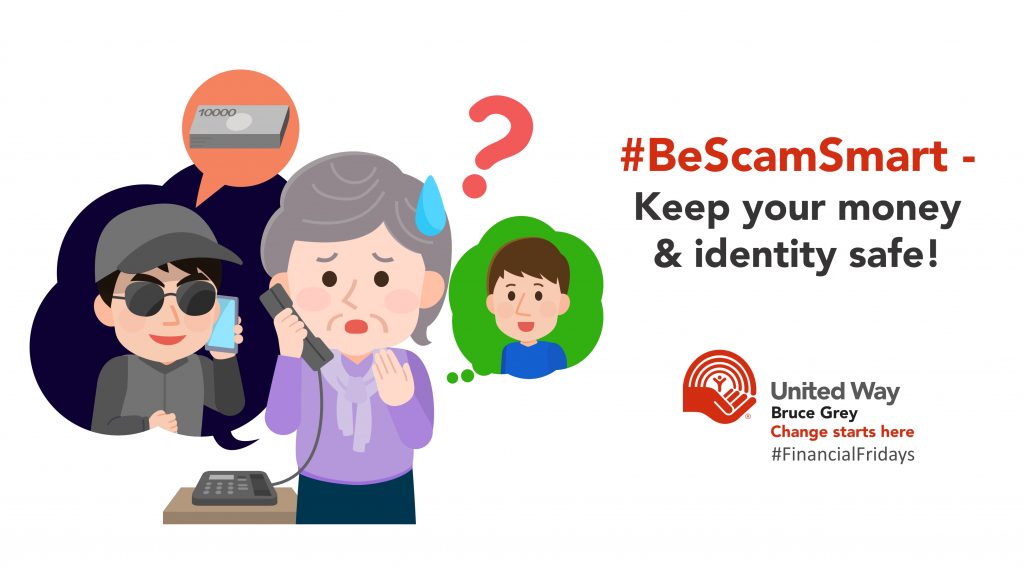 Scams and fraud have been common throughout the Covid-19 pandemic with victims being targeted in a vulnerable time in their lives. It's important to be alert and aware about scams and fraud as your identity as well as your money could be targeted.
Scammers are intelligent, cunning and sly and will often go to great lengths to prove to the victim that are legitimate. A scammer can target you online, over the phone, by mail or in person. Anyone can be a victim of a scam or fraud but 9 out of 10 times, it is the elderly that are targeted because they are more likely to have more assets such as money, savings, jewelry, property, etc. They also tend to be more trusting. The good news however is that you CAN prevent yourself from being a victim by arming yourself with knowledge and by being alert to potential red flags.
There are a variety of scams and frauds to be alert to. They include:
Tax Scams (CRA): You may receive a call, text or email claiming to be from the Canada Revenue Agency (CRA) claiming that you are entitled to an extra refund or that you may owe funds to the CRA. They may ask you to wire funds or send payment using prepaid credit cards or gift cards or Interac e-transfer. It's important to know that the CRA will never use aggressive or threatening language, not will they threaten you with arrest or send the police. The CRA will never ask you to provide financial information by email or text. Remember – you can check your current income status by visiting the Canada Revenue Agency "My Account" portal or by calling 1-800-959-8281.
Door to Door Scams: Despite living in a world of technology, in-person scams still do occur. Door to door scammers will often use high-pressure tactics to convince you to buy a product or service you don't need. Some times, these aggressive pitches will ask for charitable donations, investment opportunities or home services or repairs. In many cases you won't receive the product or service promised or the products or services will be of very poor quality.
Emergency Scams: Emergency scams usually target loving grandparents which typically starts with a grandparent receiving a phone call from someone claiming to be their grandchild. The "grandchild" will tell the grandparent that they are in trouble which could include an accident, robbery, they have been arrested or they need money to return from a foreign country. Sometimes, there will be two people on the phone – one pretending to be the grandchild and the other pretending to be a police officer or lawyer. The scammers count on you to respond quickly to helping out your grandchild and will ask you to send money. Be sure you take the time to verify the story and never send money to someone you don't trust.
Romance Scams: If you are looking for love, remember to be extremely careful, especially on dating sites and social media. Scammers will try to lower your defences by appealing to your caring and romantic side. They will prey on you on popular and legitimate dating sites as well as fake ones and popular social media sites as well. They may claim to be working abroad and may be in a location that you can not easily access. They may send you a photo of themselves or someone they are claiming to be and once you are charmed, they will start asking you to send money. They may claim to have a sick family member or that they need funds to come visit you. The process of them "wooing" you may take a long time or it may happen relatively quickly. There may be signs that they are wooing other people as well. They may mix up your name or other details. It's important to trust your instincts and be informed. Always make sure you use legitimate dating websites and check website addresses carefully as scammers will often mimic real web addresses. Remember – it's highly unlikely that someone will declare their love to you after only a few emails or phone calls. Protect yourself and your heart.
Phishing & E-mail Scams: As we spend more of our time online, scammers will send out emails or text messages which look to be from legitimate sources and companies with the goal of you replying and providing personal or financial information. The emails may include official logos and fonts that look like the company they are impersonating. The email may ask you to click a link or verify private information or may ask for your social insurance number. To protect yourself, know that reputable organizations will never ask for your personal information through email or text. Ignore communications from unknown contacts and delete suspicious messages as they can carry viruses and other malware that may record your key strokes and other private information. These scams may be done to steal your identity or use your financial information so be sure to be extra careful when reading your emails.
Red Flags to Watch For:
Remember, if something seems too good to be true, it's probably not. This pertains to all types of scams, including romance scams.
Be alert to someone requesting funds by wire transfer, money transfer service (MoneyGram/Western Union), pre-paid credit cards, gift cards and cryptocurrency such as Bitcoin, etc.
Be skeptical of emails, messages or websites that contain misspelled common words or grammatical errors.
Be wary of unsolicited friend requests on social media. Don't accept a friend request from people you don't know until you review their profile or ask your friends if they know the person. Is their profile fairly empty or very generic. Is this person promising more than just friendship? Delete this request and do not contact this person.
Be aware of emails or messages saying that you have won a prize or that you are being offered an expensive item at a low cost. Or, you may be given a free offer but you must pay for shipping costs, and therefore, must provide your credit card number. Everybody wants to get a great deal but being extra wary of these types of scams, will help keep your money safe.
Tips to Protect Yourself:
Never provide your personal information over the phone, text, email or online.
Avoid public computers, wifi hotspots where your personal information may be accessed by others.
Create strong and unique passwords for each of your online accounts. Keep them stored in a safe, secure location.
Avoid giving out personal information on social media. This could be used along with your photos to commit fraud and other crimes.
Report The Scam:
Becoming a victim of a scam can be embarrassing and hard to admit, but it's very important that you report the scam to the proper authorities. A good place to start is the Canadian Anti-Fraud Centre which you can visit online at www.antifraudcentre.ca or by calling 1-888-495-8501.
Banking, credit card and investment scams should be reported to your financial institution as soon as possible.
For information on what to do if you receive spam emails and text messages, visit www.FightSpam.gc.ca.
If you suspect that someone has stolen your identity, contact the police right away and file a report. You will also need to contact your bank or financial institution and credit card company. You will also need to contact the two national credit bureaus (Equifax Canada – 1-800-465-7166 and TransUnion Canada – 1-866-525-0262) and place a fraud alert on your credit report.
For more information on these scams and others, check out the Little Black Book of Scams at https://www.competitionbureau.gc.ca/eic/site/cb-bc.nsf/eng/04333.html. *This publication is available in English, French, Arabic, Simplified Chinese, Punjabi, Spanish and Tagalog.