Coin Can Campaign Returns for the 2018/19 Owen Sound Attack Season

Do you #HearTheSound?
The United Way of Bruce Grey is ready to hit the road! We are once again partnering with Bear Wheel and Brake for another exciting season of Attack hockey. All season long, we'll be raising funds with the Owen Sound Attack to support the Backpack Campaign.
A big thank you to all who participated in the initiative last season. Together we raised over $4000 for the program. Last year, the Attack scored 159 away game goals including the playoffs.
Great! I love the Attack, what do I need to do?
We encourage businesses or individuals to participate in this fundraiser by donating $1 each time the Owen Sound Attack score a goal during an away game. You can collect coins in a coin can (which we will provide for you). If you choose this option, we will send you an update once a week with a summary of the weeks action. You can also follow along with Bear Radio on 560 CFOS, where Fred loves to mention supporters! Alternately, you can choose to sign up to donate at the end of the season and we'll provide you with a final tally.
I'm in. Where do I sign up?
All you have to do is drop in at the United Way Office at 380 9th Street East Owen Sound to get your can! You can also find us in the upper concourse at the Bayshore for the September 29th game against the 67s.
Supporting the team on the road means helping kids at home with the United Way of Bruce Grey, Bear Wheel and Brake and the Owen Sound Attack.
For more information or to sign up, fill out the form below.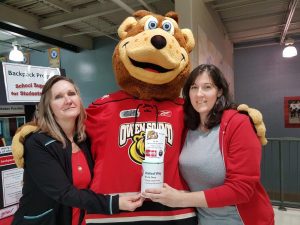 How can I help out the Backpack Campaign?
Donations are still being accepted to cover the costs of increased usage of the United Way Backpack Campaign. In 2018 over 2400 students used the backpack program, a 20% increase over 2017.  Donations may be made in person at the Owen Sound Office at 380 9th Street E, or online here: