Brown Bag Challenge for Giving Tuesday 2018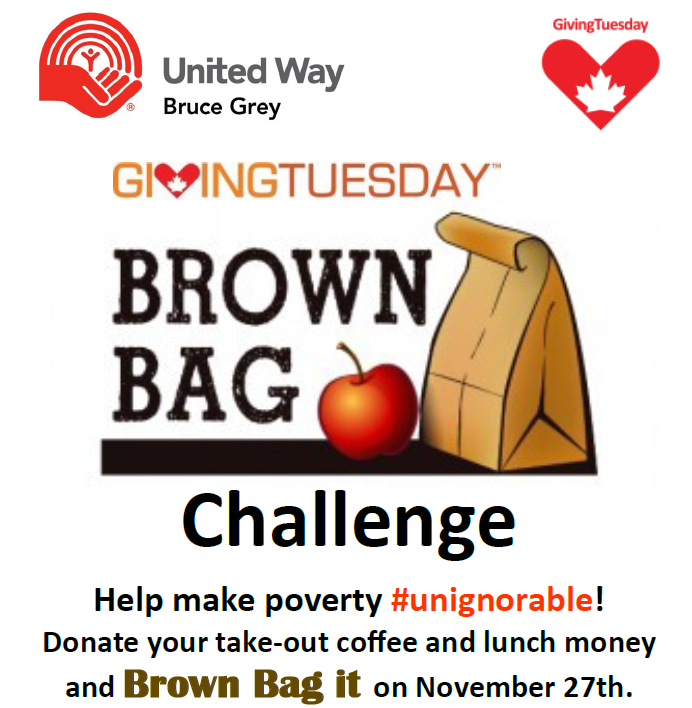 Help make poverty #unignorable!
Donate your take-out coffee and lunch money and Brown Bag it on November 27th
By donating $15, you can feed someone in need for 15 days.
How can you participate?
As a GivingTuesday partner, the United Way Bruce Grey is inviting you to join the "Brown Bag Challenge" to help someone in need and make poverty #unignorable.
Donate your take-out coffee and lunch money and "Brown Bag It" on November 27th.
Online – DonateToday.ca
Phone – 519-376-1560. Mail/In Person – 380 9th Street East, Owen Sound, ON. N4K 1P1
Make your cheque payable to United Way Bruce Grey. Memo – "Brown Bag Challenge"
Register your workplace, church, school, community group, service club or sports team for the challenge and ask associates, customers, volunteers, family and friends to participate. Make a big pot of soup, hold a potluck or just Brown Bag it.
Email – fundraising@unitedwaybg.com
Phone – 519-376-1560
Upon registration and with your authorization,
you will be supplied with lunch bags for donors to use on November 27th to publicly acknowledge their support through the United Way on this global day of giving.
your team's business logo and/or name will be included in promotional coverage as a participant. There is no minimum or maximum number of mentions.
100% – Local giving. Local results.
Every $1 you invest in your community through the United Way stays in Bruce-Grey to be reinvested back into the community where it is needed the most. Your generous support makes our work possible.
Together, we can restore hope and change lives, moving individuals and families out of poverty and social exclusion to build a strong, healthy and safe community for everyone.