Backpack total surpasses 2022
The United Way Bruce Grey's Backpack Program has surpassed its previous year's total of backpacks distributed in the community, and the impact is far from over!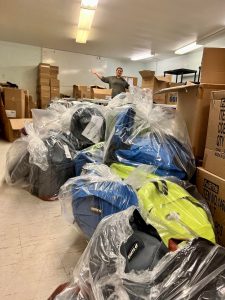 The United Way Bruce Grey's Backpack Program has achieved a concerning milestone in its mission to support the community. As of Thursday afternoon, the program has distributed 2,377 backpacks throughout Grey and Bruce County, surpassing last year's total of 2,361 backpacks. The program has now contributed over 35,185 backpacks to those in need since its inception in 2005.
The United Way Bruce Grey's Backpack Program aims to provide essential school supplies and backpacks to children and youth in the community who may not have access to them. By ensuring students have the necessary tools to succeed, the program helps create a level playing field for all children, regardless of their background or financial situation.
In response to the achievement, Francesca Dobbyn, Executive Director at United Way Bruce Grey, stated, "We are greatly concerned to have exceeded last year's record for backpack distribution. While this accomplishment reflects the unwavering dedication of the tremendous support from the community we have received, we are concerned with the increased number of backpacks distributed this year. These numbers highlight the critical need for our program and reinforces our commitment to empowering local students."
Last year in 2022, the United Way Bruce Grey's Backpack Program distributed 2,361 backpacks to students in need. This year, with the support of the community, the program has been able to go above and beyond, providing 2,377 backpacks to ensure students have the necessary supplies for a successful academic year.
What is at risk, is the 2024 program if donations are not received to cover the unanticipated increase in costs to meet this vital need.
It is anticipated that this is not the final total. Backpacks, generally, continue to go out throughout September once school starts.
The United Way Bruce Grey will continue to support low income students who are still in need of a backpack and is encouraging applicants to call the office at 519-376-1560 to access the program as soon as possible. Out of Owen Sound distribution is completed for the week prior to school starting, but pick-ups at the Owen Sound office are always available.
If you would like to make a donation to The Backpack Program, please do so at www.Backpacks4Kids.ca or by contacting the United Way at 519-376-1560.