Backpack Program

Every child has a backpack – every backpack has a child
 This is the cornerstone philosophy behind the United Way's annual Backpack Program.  The United Way wants school to be a positive experience for all children, regardless of their economic situation.  By providing school supplies to low income children, we are providing the tools needed to start off the year on the right foot.
Teachers have remarked to us how this program has taken the bullying out of their classroom.
How does it work?
The United Way creates backpacks on two vectors; gender and grade level.
Four grade levels are created to ensure that the right supplies are provided for the right age group.
How does the United Way find the children?
The United Way creates the list of children through two approaches.
Community
The community list is created directly from the families themselves.  Either through word of mouth or the media, families learn of the program and call 211 to register.
There is also a slip was included in all Bruce and Grey Ontario Works (OW) June and July 1st cheque indicating they could call 211 to register to receive a backpack
Families are directed to call 211 to register as individuals for a backpack as 211 can also direct them to other services in the region.  Utilizing the 211 service provider also frees up United Way staff to focus on fulfilling needs.
The list is completed on a first come first served basis.  With the tremendous support from the communities of Bruce and Grey counties the United Way has succeeded in filling the list each year.
In addition to providing the intake for the backpack program, 211 provided additional information and referrals to other agencies and organizations that the families could access for support.
 Local Agencies
Local agencies review their client lists and send the United Way a bulk request for supplies.  The agencies to provide us with bulk numbers based on gender and grade level.
A caseworker with an agency might request 8 primary boys, 4 primary girls, 5 intermediate boys and 7 intermediate girls etc.  This approach enables us to plan for the large requests and creates a distribution system to get the backpacks to the children.
 The United Way is passionate about respecting the individual's privacy with this program.
What's in the Backpacks?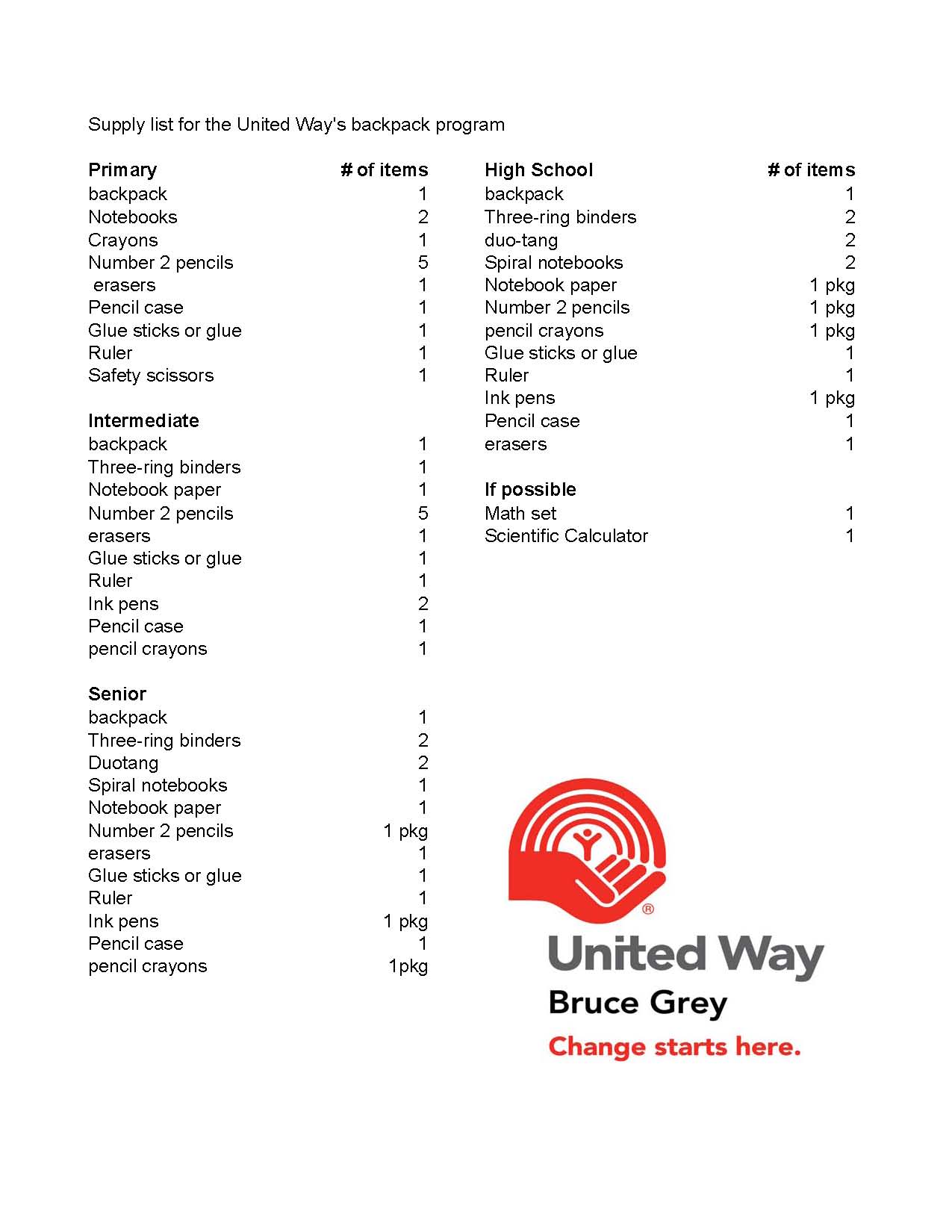 Reports and History