We are hiring: Food Security Co-ordinator
Full-time contract position to December 2024 with potential for extension pending funding.
Wage rate: $23 hr plus standard benefits package 37.5 hr/week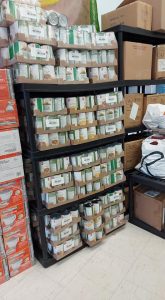 The United Way of Bruce Grey is seeking a full-time Food Security Co-ordinator to improve food security throughout the region.
The candidate will have strong interpersonal skills, report writing skills, and an understanding of local, regional, and provincial food systems. There are physical requirements for this position, lifting, carrying, and inventory management. This position is not available as a 'remote' position. Evening work is minimal and scheduled, weekend work is extremely rare.
The preferred candidate will have some or all of the following skills:
Excellent oral and written communication skills
Strong interpersonal skills; demonstrated experience working with the public
Well-organized and able to manage time and priorities effectively
Comfortable presenting to small and large groups
Proficiency in computer office applications including video conferencing (e.g. MS Office, PowerPoint, Word Press, Zoom Microsoft Teams, etc)
A degree or diploma in social work, food management, or related field is an asset
Previous experience in food systems or programs is an asset
Licensed and insurable with a reliable vehicle
The ability to perform moderate lifting (20 kg) regularly.
Reporting to the Executive Director, the Food Security Co-ordinator will
Logistical management of the Good Food Box Program throughout the Bruce Grey region including regular meetings, support to the co-ordinators and compliance with GFB guidelines and protocols
Support and collaborate with the Poverty Task Force's Food Security Action Group
Establish and maintain relationships with other food agencies and organizations in the community to understand community food needs
Collect and analyze data from food banks, community meal programs, and community garden programs using the website www.foodbrucegrey.com
Assist with and where relevant facilitate Food Rescue Programs in Grey/Bruce.
Further, educate and support the food system by hosting bi-weekly Food Security Meetings including a weekly Food Thoughts e-newsletter to area food organizations.
Speak to the public, community groups, and stakeholders on the issue of food insecurity as requested
Assist with inventory management for various United Way programs, including transporting goods from storage locations to the United Way office or relevant community partner
Follow ongoing COVID-19 health guidelines of the United Way and all community partners
How to Apply
Apply online or in person with a cover letter, and resume, by September 9th, 2022 at the United Way of Bruce Grey 380 9th Street East Owen Sound, office Monday to Friday 8:30 am to 4:00 pm.
By email execdir@unitedwaybg.com
The United Way of Bruce Grey values diversity, equity, and inclusion and is an equal opportunity employer and signer to Living Wage Ontario