How to help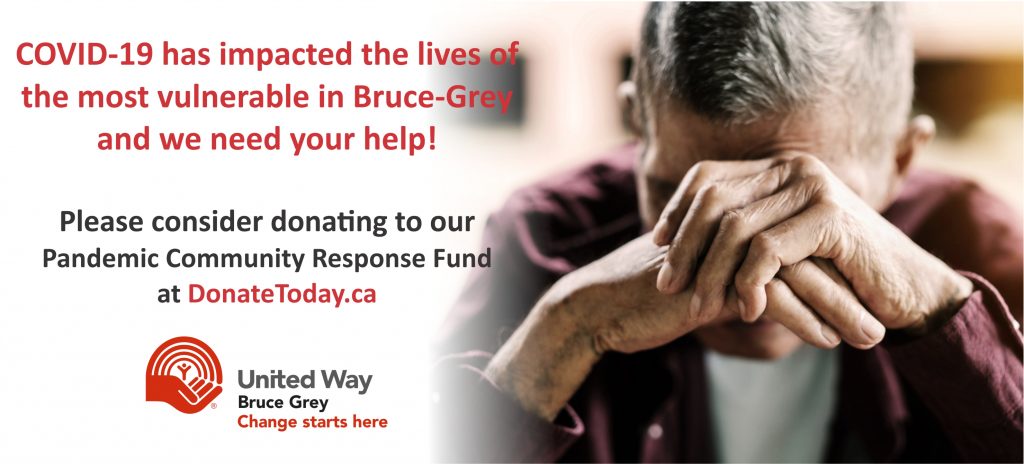 In response to the Covid-19 Pandemic, the United Way of Bruce Grey has launching two fundraising initiatives.
Pandemic Food Bank Fund – this fund will support food banks as they respond to an unprecedented increase in requests for food.
Pandemic Community Response Fund – this fund will support other local agencies who are supporting people in our community impacted by the Covid 19 Pandemic.All funds will stay in Bruce Grey and go directly to the organizations that require more support during this time. The United Way is working directly with community leaders and agencies to ensure we are providing help where needed.
Donations can be made through www.DonateToday.ca or emailed to manager@unitedwaybg.com, called into 519-376-1560 or mailed to: 380 9th street East Owen Sound N4K 1P1.
Please no drop off donations at this time.
All donations are tax deductible.
For more information or to get involved, please give us a call at 519-376-1560 or email us at: manager@unitedwaybg.com
1. You may give a financial gift.
When you donate to any of our programs, your gift will go to work immediately creating change and making a difference in the lives of people struggling.
To donate to the program through Canada Helps, please visit www.DonateToday.ca or give us a call at 519-376-1560. Donations may also be mailed to us at: United Way of Bruce Grey, 380 9th Street East, Owen Sound, ON N4K 1P1. Thank you in advance for your financial gift.
2. You may donate in kind supports.
We would appreciate the donation of school supplies (name brand if possible), socks, mitts, hats, small value gift cards etc.
For more information, please give us a call at 519-376-1560.
Thank you so very much for your support.