Starlight Film Festival for Teens
Thanks to everyone who attended our 16th Annual Starlight Film Festival for youth!!
The 2020 event has been cancelled due to the Covid-19 pandemic
We have no idea if this event will return in 2021, but keep in touch!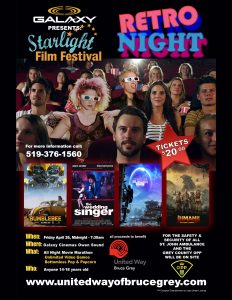 What a great night we had!!
Sending out a big shout out to all those teens who participated in our Starlight Film Festival "Retro Night"!! We really appreciate everyone coming out and supporting our event. You not only braved a 7+ hour movie marathon, you also helped to support children's programming right across Bruce and Grey Counties. Thank you SO much for that!!
An extra special thank you goes out to the Owen Sound Galaxy Cinemas for hosting our event and supporting our programming. To the staff, thank you for going above and beyond. Your contribution to the event is very much appreciated.
Thank you also to Grey County OPP, St John Ambulance and Georgian College Police Foundation students. We simply could not do this event without you. Thank you so much for your help and support.
We are already looking forward to next year!   Can't wait!  🙂
For more information or to suggest movies for next year,
please contact us!