#FinancialFridays: Shrinkflation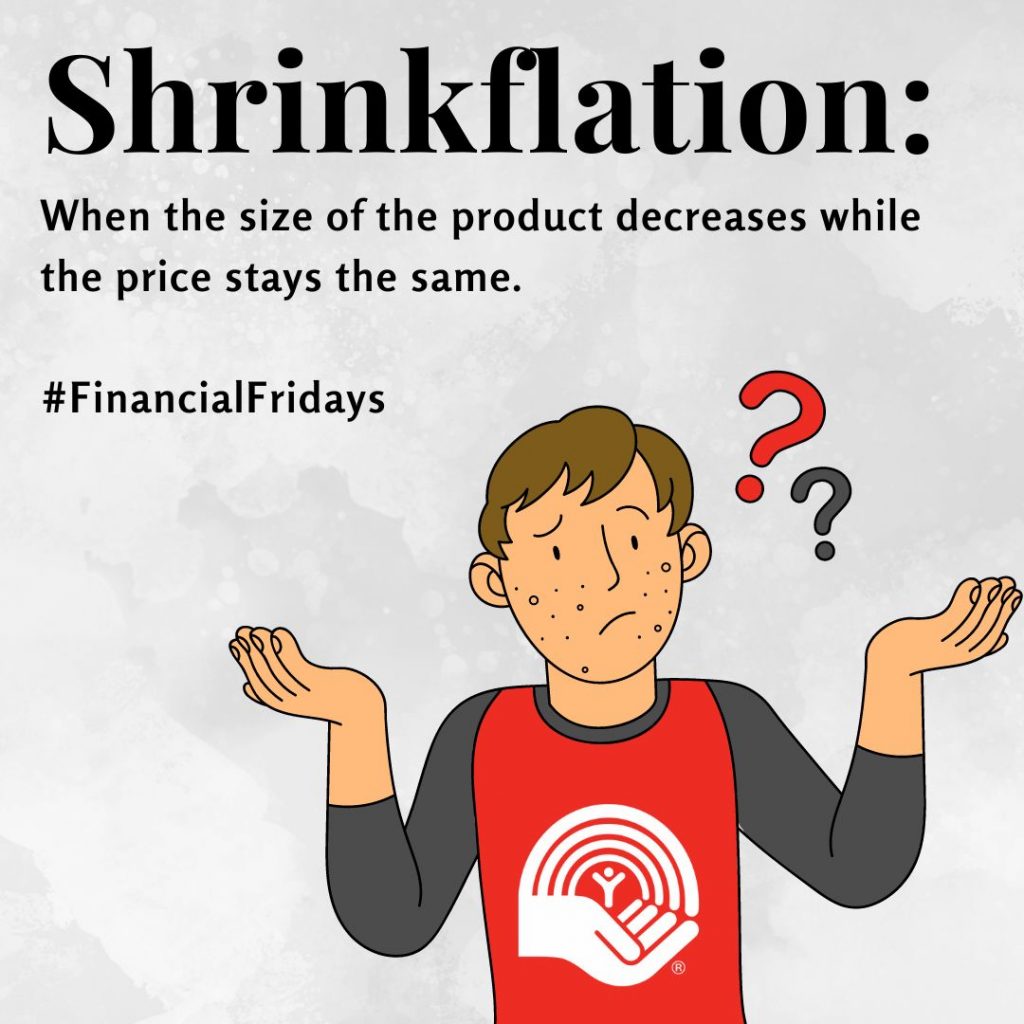 I was at the grocery store at the start of January and bought my usual box of dishwasher tabs. This box usually lasts our family 3 months. The box went into the grocery cart without another thought.
We hadn't been busier than usual but at the start of this week, when I went to grab a dishwasher tab from the box to throw in the dishwasher, it was the last one. WHAT?!?!?! How did we use all the tabs? We still have a week to get through before the next grocery shop.
When we first got our dishwasher, I had diligently gone through the dishwasher tabs section in the grocery store to find the best deal. This meant calculating each unit's cost and comparing them to each other.
$11 divided by 35 tabs = $0.31/tab
$23 divided by 92 tabs = $0.25/tab
$18 divided by 75 tabs = $0.24/tab
This had been the winner and I had bought it diligently every three months since. So what happened?
SHRINKFLATION!!!!!!!
When the size of the product decreases while the price stays the same.
I felt crazy as I tried to work it out. And finally, I looked at the box… which has 70 tabs listed as the number of tabs in the box. But the price hadn't changed. That box used to have 75 tabs. Now it has 70.
$18 divided by 70 tabs = $0.26/tab
That may not seem like a big deal but it throws off my budgeting and grocery shopping. And it made me wonder what other items that I regularly buy have changed.
That box of granola bars that used to have 8 bars may now have 6. But the box is the same size as it was.
That juice may now be 850ml instead of 1L. But they changed the shape of the bottle to make it look nicer.
It is crazy-making!
But it also made me recommit to rechecking the unit costs of my usual grocery items.
Take the cost of the product and divide it by the number of units. This lets you compare products unit to unit.
Even easier, I searched on my phone and found a free app to help me.
https://www.cbc.ca/news/business/shrinkflation-smaller-package-sizes-1.6461139
With warm regards,
Caroline Araujo Abbotts (She/Her)
Financial Literacy Program Coordinator
advice@unitedwaybg.com
519-378-4773 work cellphone (Mon-Fri 8:30 am – 4:30 pm)