Annual General Meeting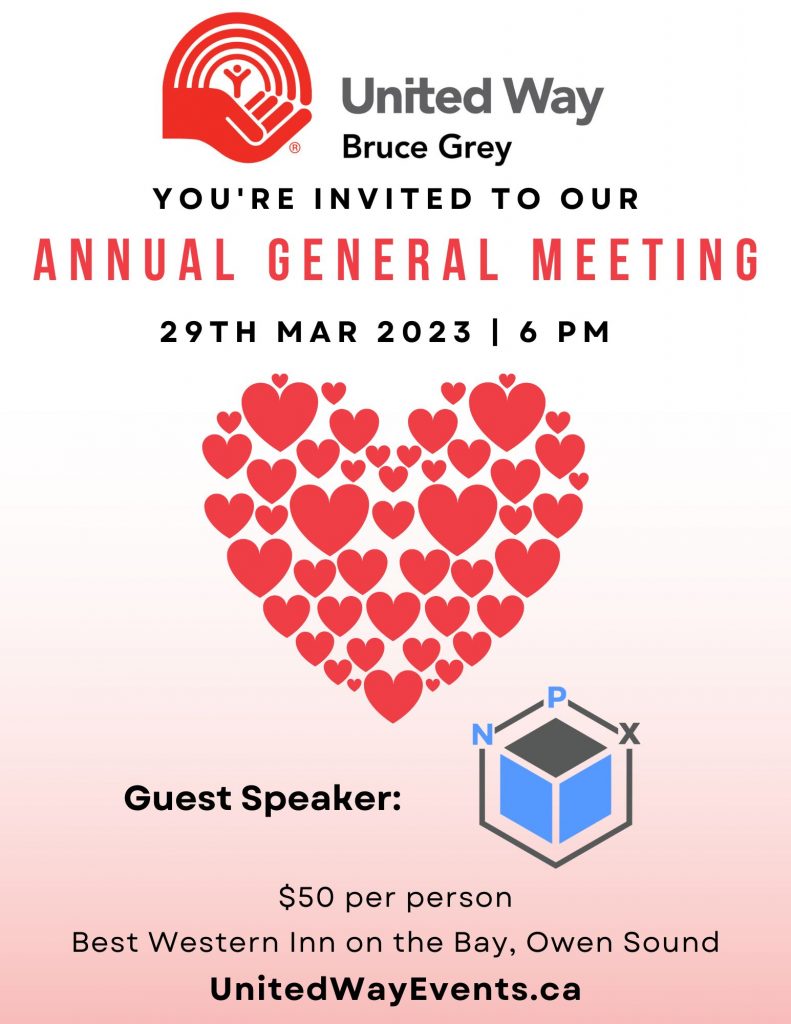 *Online ticket sales are done. If you'd like to attend the AGM, please give our office a call at 519-376-1560.
Please join us for our first 'in person' Annual General Meeting since 2019!
We are thrilled to announce an in-person AGM to celebrate everything 2022, report back to our donors and our community, and look to celebrating our 25th anniversary in 2023.
Our special guest speakers will be a unique presentation by NPX. NPX has assisted us with projects such as FoodBruceGrey.com our recent EMS Kettle project, the Parkinson's pill dispenser and so much more! We've asked them to celebrate the innovations that we've all managed during the pandemic, but how do we keep going? How do we do things differently? Are there new ways of thinking about the challenges we are trying to solve?
Post AGM:
Our Annual General Meeting was a resounding success with an outstanding turnout. The event kicked off with a delicious dinner provided by Best Western Inn On The Bay. Our discussions centered around 2022 and the forthcoming 25th anniversary of our organization in 2023, which we're all eagerly anticipating.
In a memorable moment, we witnessed Dave Myette, who had been our Board Chair, pass the torch to Breanne Moss, who will now bear the responsibility of leading our organization to greater heights. We also had the pleasure of welcoming two new board members to United Way Bruce Grey, expanding our team and augmenting our collective strength.
Our guest speaker, CEO Bharath Nangia from NPX delivered an inspiring speech on hope and innovation, which left everyone feeling invigorated and motivated to take on new challenges.
During the event, we also awarded grants to some local agencies and partners deserving of recognition for their invaluable contributions. Regrettably, a few organizations could not make it to the event, so we will be couriering their cheques shortly.
Photos from the AGM: