Gimikwenimaanaanig binoojiinyag – Remember the Children
The Giche Namewikwedong Reconciliation Garden Committee was established in 2010 to plan, fund and build a permanent Healing and Reconciliation Garden to recognize and celebrate Indigenous history and culture. The City of Owen Sound has dedicated a portion of Kelso Beach at Nawash Park in support of this initiative. Since that time, the Committee has worked with the City and with Indigenous and community stakeholders to develop a detailed plan for a gathering place for all; a place that will feature Indigenous art, history and cultural references.
Please join us on Friday September 30th to remember the children.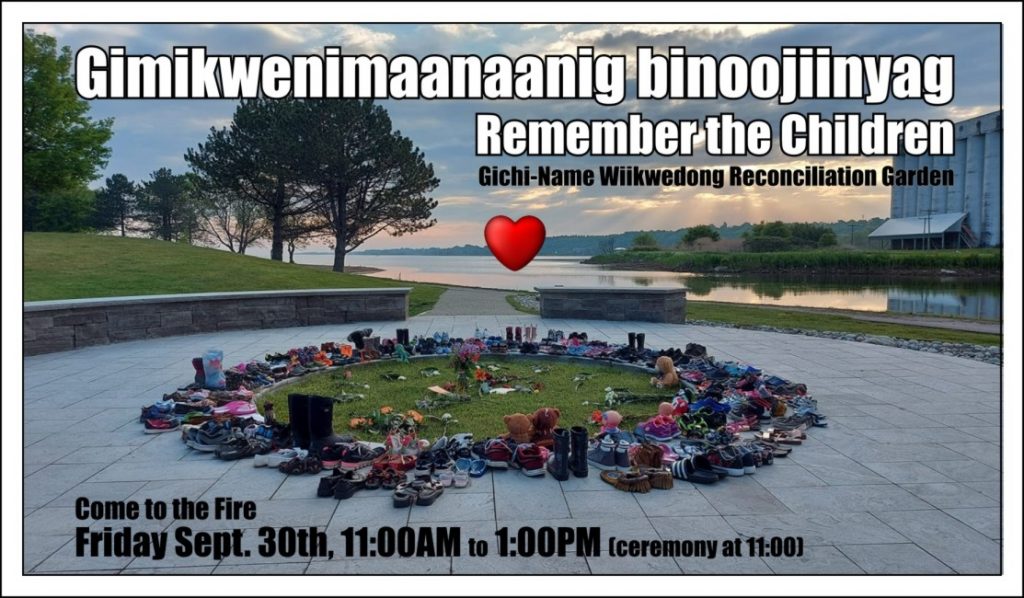 • 11:00 a.m. ~ Sacred Fire and Pipe Ceremony
• 11:15 a.m. ~ 2 Songs Drummers and Singers
• 11:20 a.m.~ Introduce Speaker Shayla Adamson from the Junior Optimist Club have painted "Forget me Not " Stones They lay their stones with Gichi Name (Grandmother Sturgeon ) Chii Miigwech Junior Optimist Club – gift Every Child Matters buttons
• 11:30 a.m. ~ Guests to tie orange ribbons on the fence in honor of the Children who didn't make it home – Song Drummers and Singer while the ribbons are tied on the fence
• 12:00 p.m. ~ Sharing Circle Elder Shirley John – Strong White Buffalo Woman
• 1:00 p.m. ~ Closing Song Drummers and Singers Please wear your Orange Shirt!