Bruce Peninsula Safe Communities Committee

Donate here – just chose Bruce Peninsula Safe Communities on the drop down menu or mention the committee in comments. All donations are kept for Committee use.
Update from the Committee Here! October 8 2021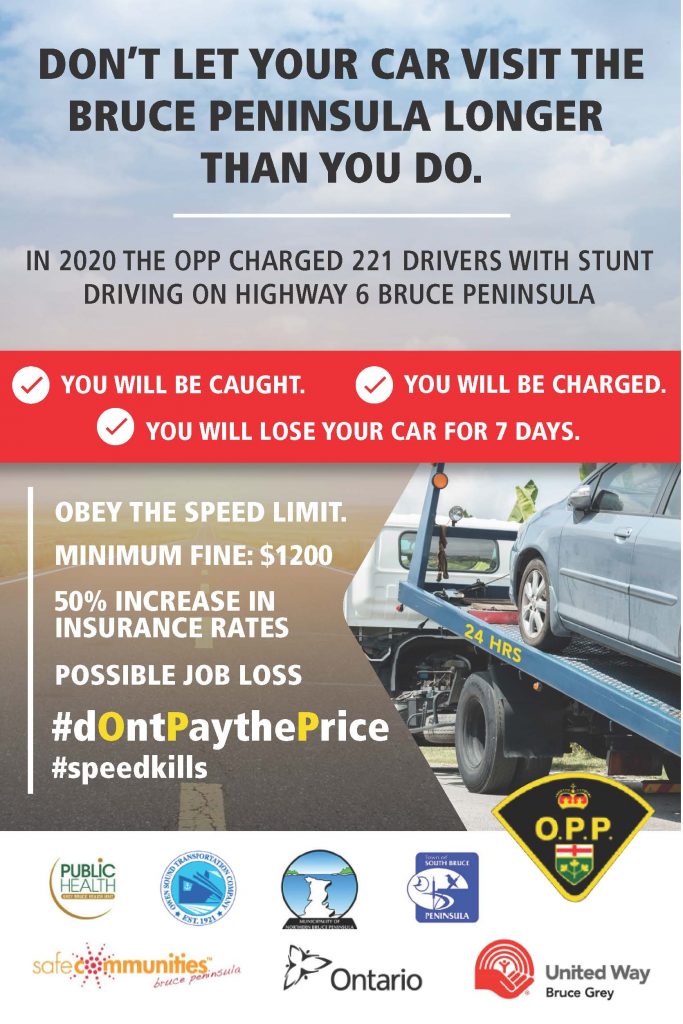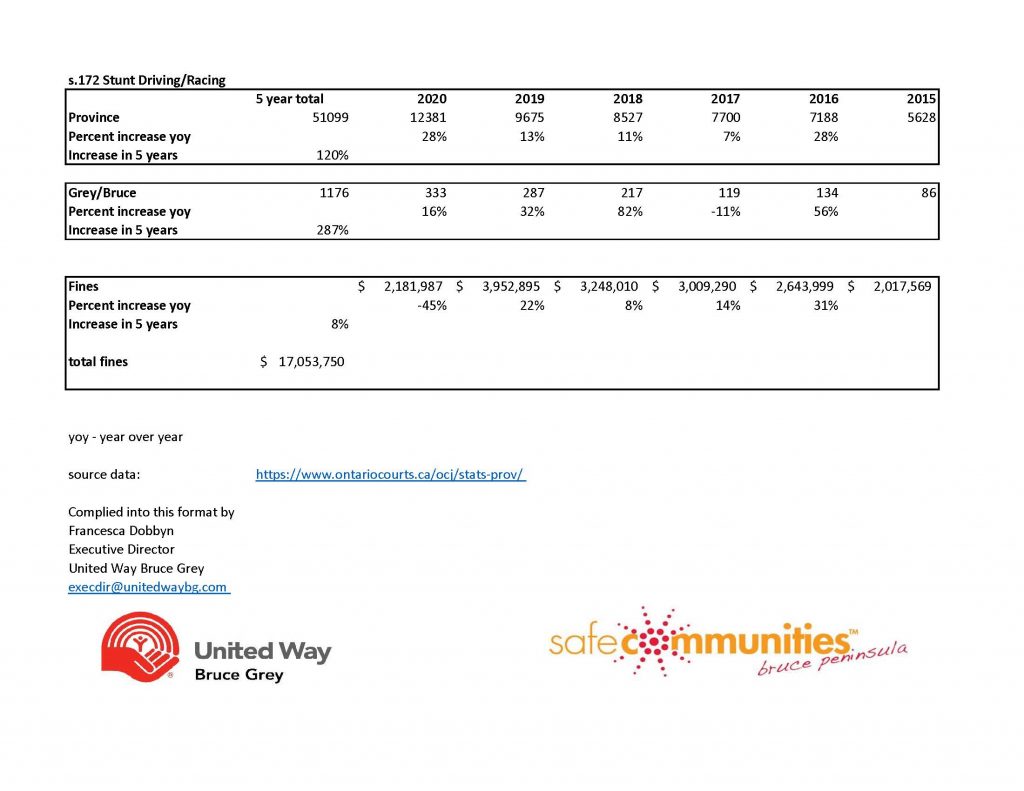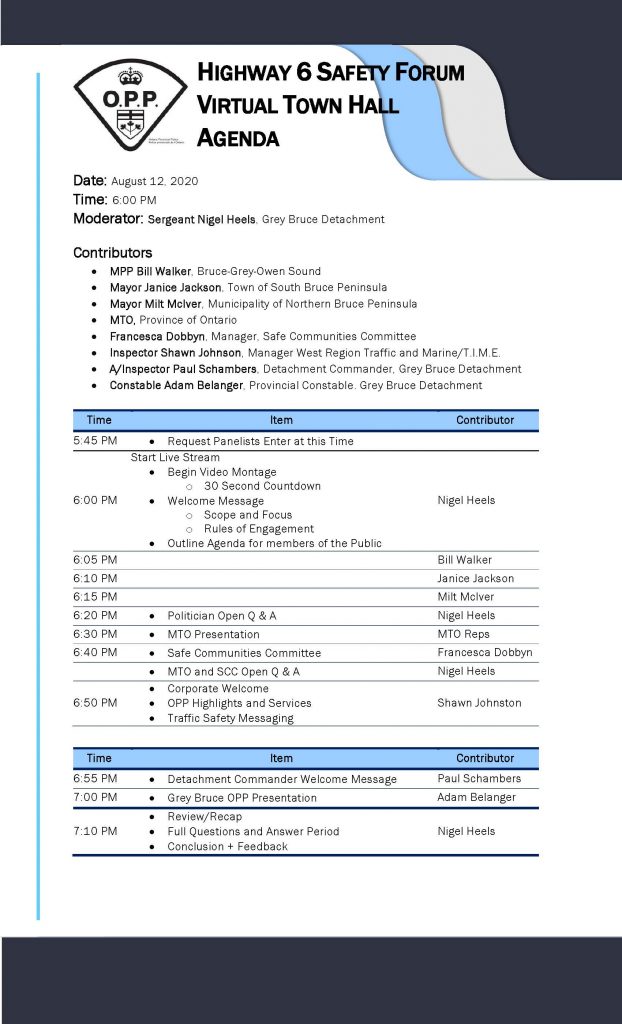 If you would like one of these yard signs to help get the message out…order it here We are asking $20 per sign to cover the cost of the signs.

If you would like to sponsor signs to go on public property you can indicate that at the time of purchase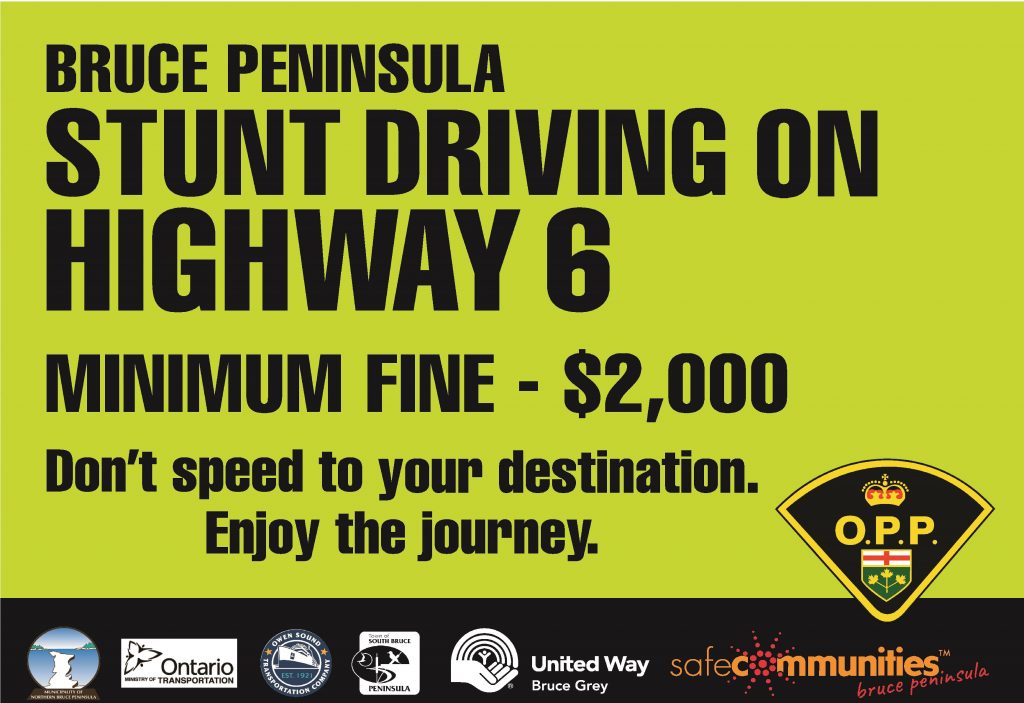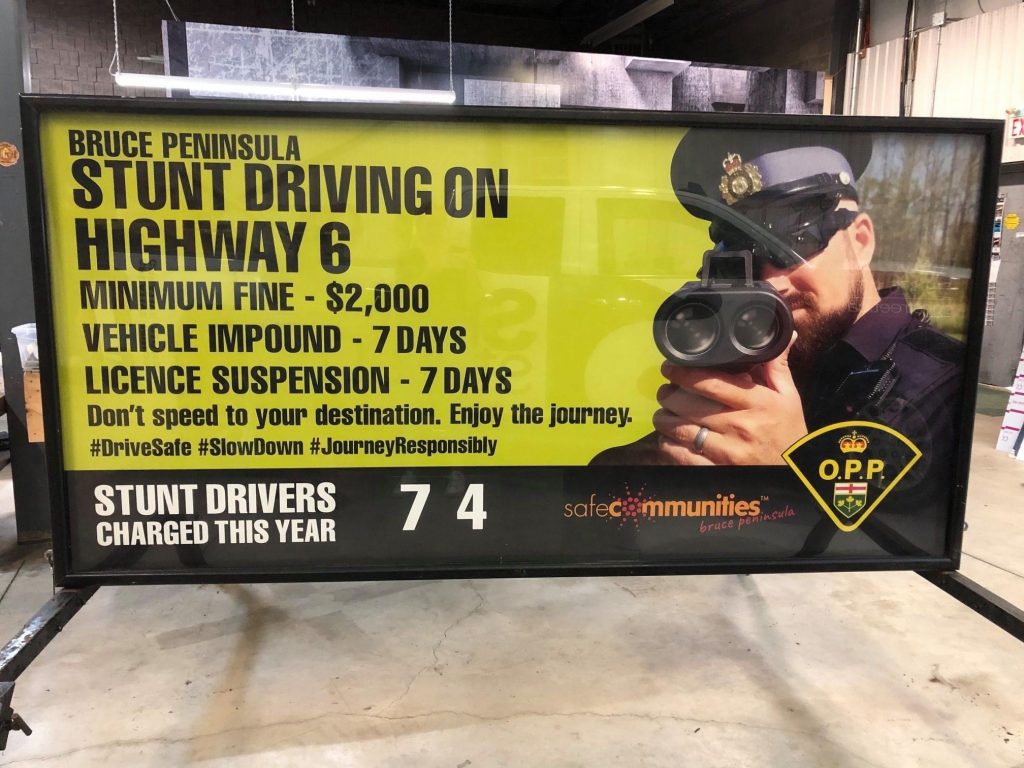 In partnership with Sign Street The Safe Communities Committee has supported the development of this sign which will sit on the side of highway 6 just north of Wiarton. Donations to support additional signage can be made through the United Way – please chose "Bruce Peninsula Safe Communities Committee" from the list of funds.
2020 is on track to be another record year for stunt driving charges:
July 14, 2020 – More Stunt Driving Charges On The Bruce Peninsula
July 13, 2020 – OPP Lay Impaired, Racing Charges On Hwy 6
July 9, 2020 – OPP Report Four Peninsula Stunt Drivers Wednesday
June 30, 2020 – Stunt Driving Reaches Speed of 205km/h On Hwy 6
June 22, 2020 – UPDATE: Stunt Driving Continues On HWY 6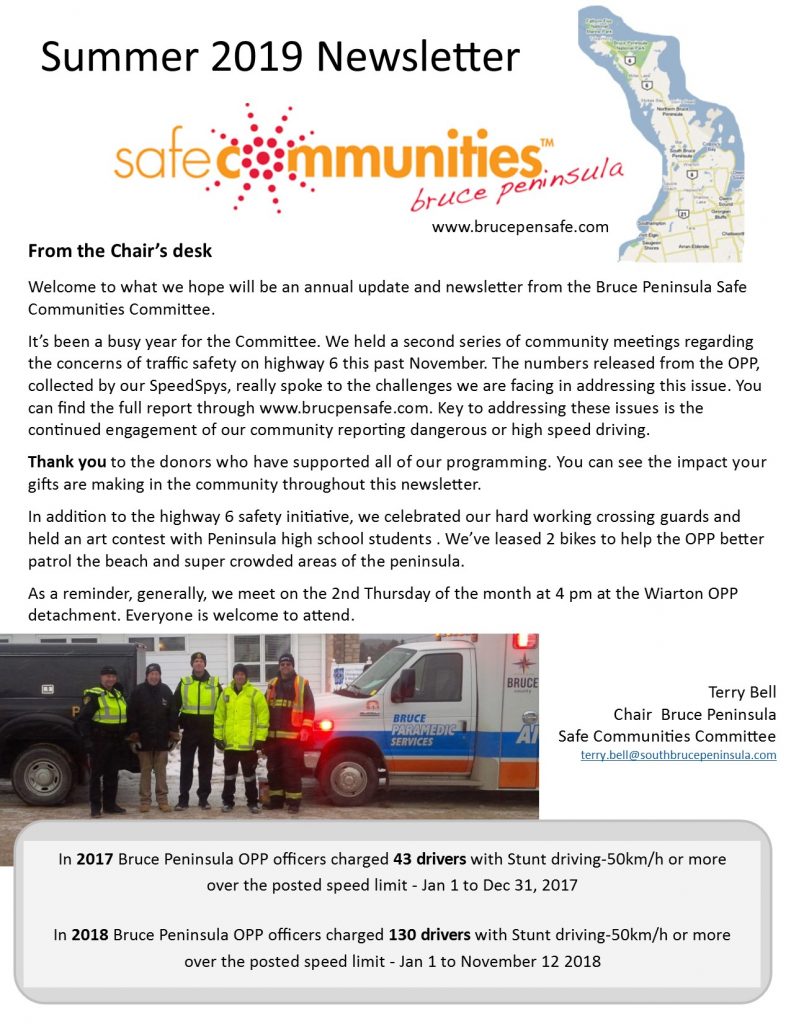 Our first newsletter is available!
Downloadable image for attaching to emails for area businesses: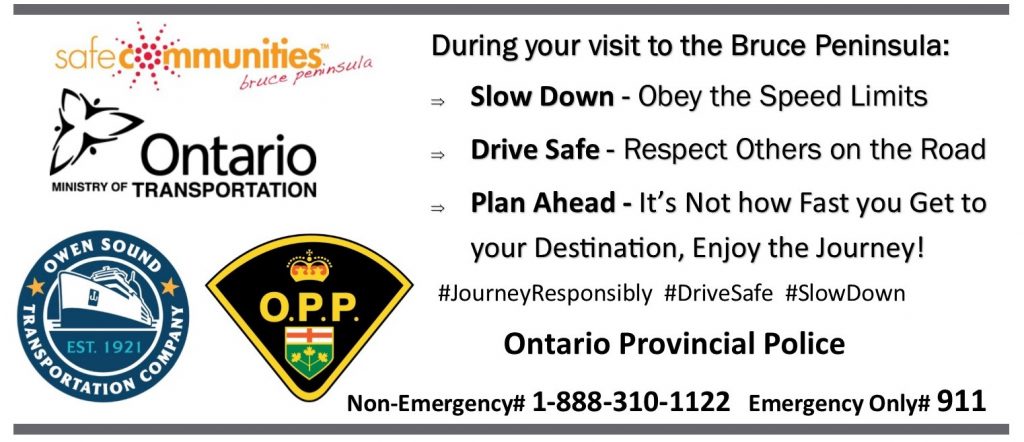 Why this makes a difference!

That's a significant increase in the public reporting and it has helped catch a lot of unsafe drivers! Thank you!
Reports to the Community:
Please find below the two summary documents from the community meetings held on the Bruce Peninsula in 2018 and 2017..
Our hope is that these reports become working documents for communities. The ideas that we as a community can implement can be on everyone's agenda, and those that require government or legislative changes, our leadership can take those ideas to those that can explore and possibly implement them.
Thank you for your patience as we pulled this information together.
Please feel free to share this document with colleagues and other Safe Communities Committees
We Love The Way You Drive (and ride a school bus): WLTWYD
Picture of Safe Communities "We Love The Way You Drive" (WLTWYD) event at Bruce Peninsula District School (BPDS) in Lions Head on Thursday, December 21, 2017. We had involvement from Staff of BPDS, Northern Bruce Peninsula Fire, Bruce County EMS and Bruce Peninsula OPP. Terry Bell attend as the Safe Communities Representative. It was well received by the students, parents and bus drivers.
We Love The Way You Drive is a positive interaction with high schools on the Bruce Peninsula celebrating being prepared to drive safely. Bruce Peninsula OPP, Bruce County EMS, local fire department and other volunteers "swarm" the high school parking lot just prior to dismissal and if the driver has
seat belt on
cell phone tucked away
radio station at a reasonable level
They are rewarded (candy…we give them candy).
Into it's third year the BPSCC has received significant feedback from the schools that the students enjoy the interaction and that the message of safer driving is clearly identified.
Feel free to steal this idea for your area, we stole it from a high school in the US!
Background
The Bruce Peninsula Safe Communities Committee received its accreditation from Parachute Canada in May of 2017.
The committee had been meeting for almost 2 years and had run numerous local initiatives that focused on reducing injuries and creating a safer community over all.
The committee meets the first Thursday of each month and welcomes community partners to join.
From Parachute Canada
Sixty-eight communities in Canada have been designated as Safe Communities, with more communities seeking this designation every year. Linked to an international movement begun in 1989, Canadian Safe Communities believe that a safe life is a basic right. A designation is a public affirmation of, and testament to, a community's aspiration to create a safer life for all its citizens.
The official designation of a municipality as a Safe Community indicates a publicly articulated commitment to work towards a safer locality for all. It is not an end point, but rather, the beginning of a concerted effort to make injury prevention and safety promotion a top community priority with tangible results, ultimately creating safer places where citizens can live, work and play. Communities that choose to see the designation process through to the end and commit to a collaborative relationship with Parachute, members of the Parachute network and others in the domain of health and safety, are also agreeing to some guiding principles, namely leadership, sustainability, community engagement and prioritization of injury prevention.
Communities who have obtained the Safe Community designation have shown considerable commitment to promoting injury prevention and safety promotion locally. They have brought together local officials from their municipalities at a leadership table, including representatives from local government, public health, police, fire and emergency services, educational institutions, local business, and health and safety organizations. Designated Safe Communities have completed a formal Priority Setting Exercise and community scan, to inform their programming decisions, and they have a proven plan for sustainability.